Daisy Braid's book 'Sew It Yourself with DIY Daisy' landed on our pattern table recently, and we instantly fell in love with its feel-good cover and oh-sew juicy contents! Within the book are loads of pattern-free DIY projects, including the delightfully simple Maya Ruffle Dress. Read on for our review of this DIY pattern tutorial, kindly modelled by Steph from our HQ team!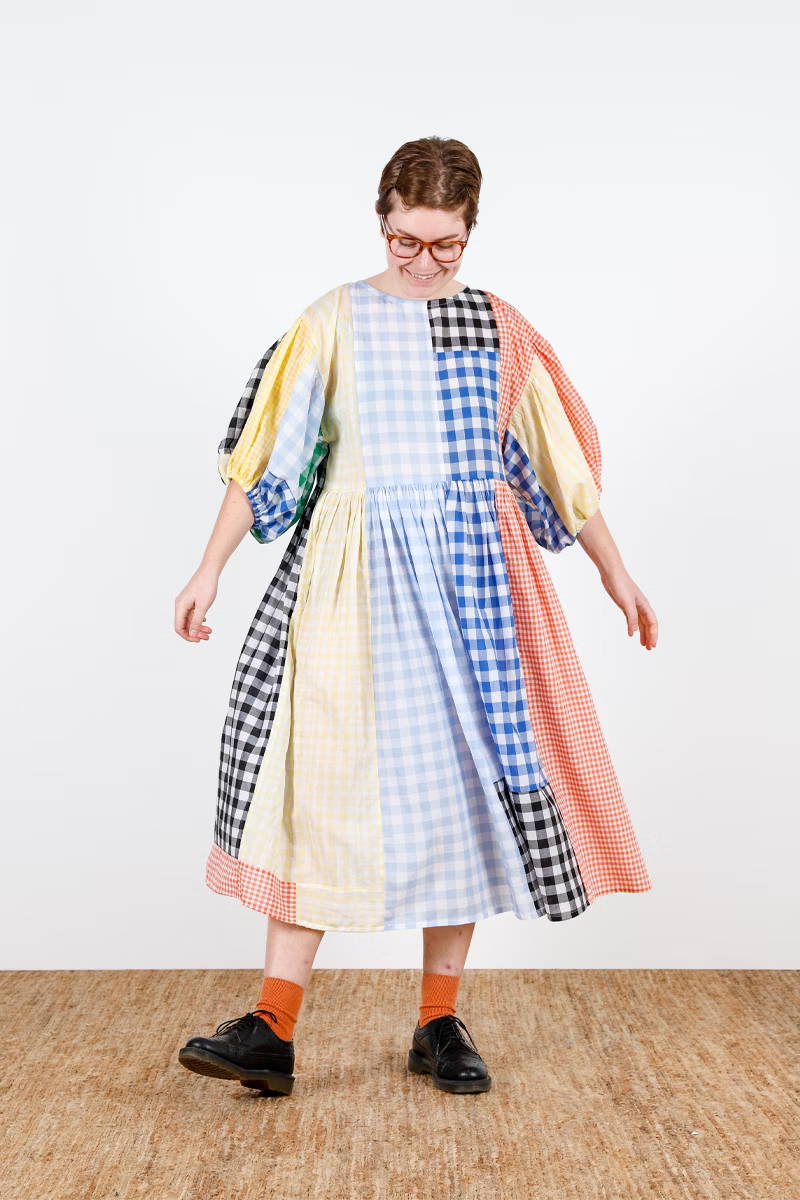 We've photographed our Maya Dress with the sleeves open and floaty, as well as with them gathered into elastic at the wrist. Both finishing methods are super simple!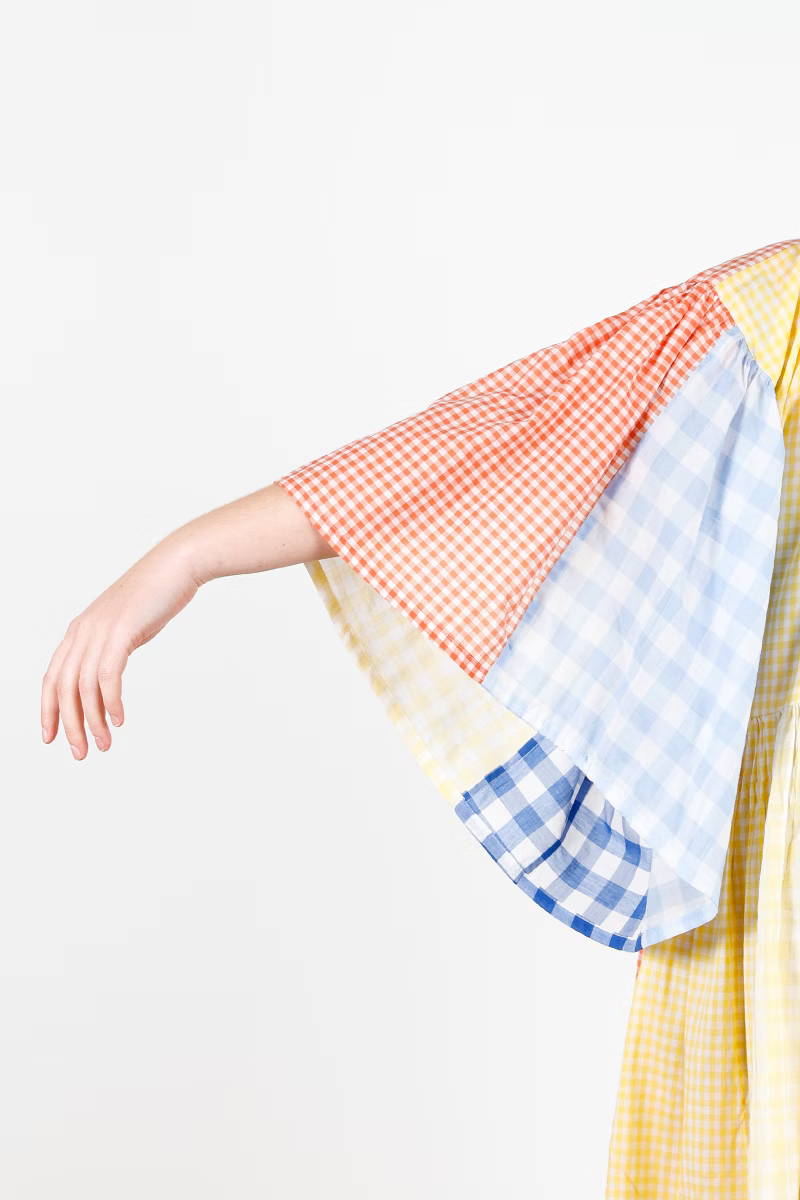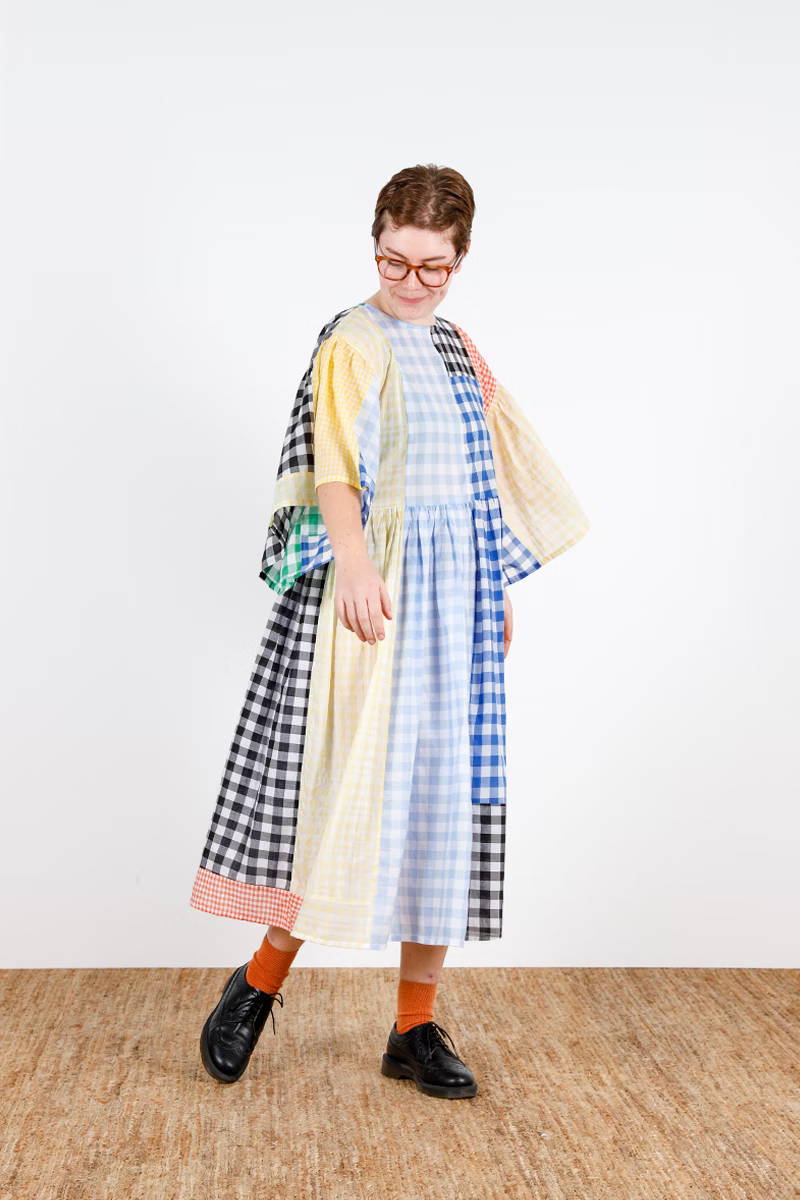 The Maya Ruffle Dress is a step-by-step DIY tutorial showing you how to make a simple ruffled rectangular dress (or top!), and can be found both in the book, and over on Daisy's website here. Maya features a scooped bound neckline, dropped ruffle sleeves and a panelled gathered skirt. Dresses that are loose and generous in their silhouette like this one are a breeze to wear, ideal for our forthcoming springtime here in the Southern Hemisphere.
The dress is made up entirely of rectangles which means it produces almost no waste at all, and can be easily altered to fit your size. There are 3 pattern pieces to draft; a bodice, sleeve and a skirt. These simple rectangle shapes are created by a formula for each pattern piece and use a couple of Daisy's '12 points of measurement' included in her book. Very clever!
We decided to bust some recent cotton blend gingham scraps and make our Maya a patchwork. This added a little more time to the project overall, but we LOVE the result. We French seamed our patches together and whilst this was time consuming, it was also a super satisfying process and a lovely end result for this slightly sheer fabric. Daisy's DIY tutorial is easy to follow, with a well-written method and fabric yield examples, perfect for the beginner sewist. We love how the book is scattered with playful illustrations and photos, along with bold pops of bright colour. It would make a wonderful gift for a newbie sewist!
Alteration note - We decided to make our sleeves slightly longer at 33cm, and then also added a casing to enable us to elasticate the hem for a puffed sleeve. We've photographed it both ways (cuffed and open) so you can see the difference.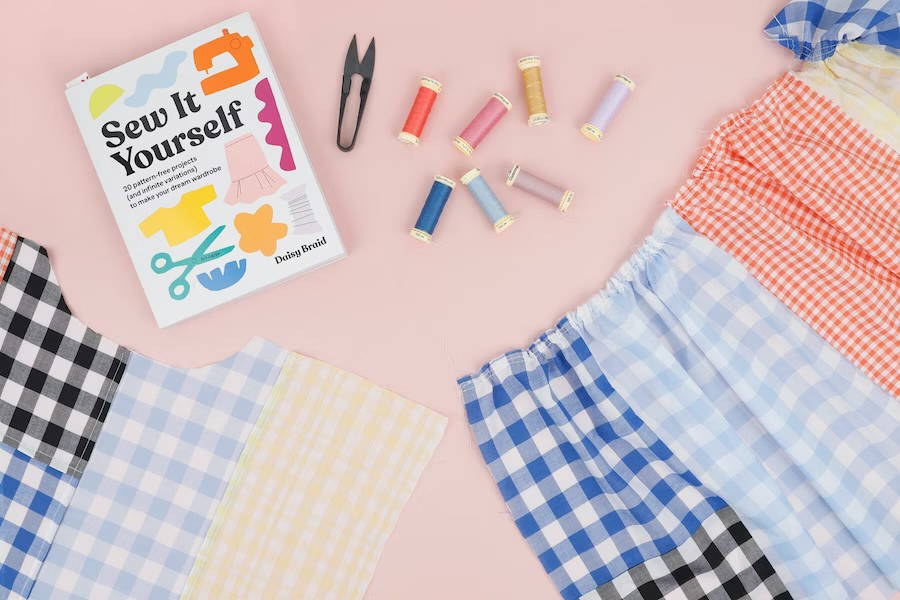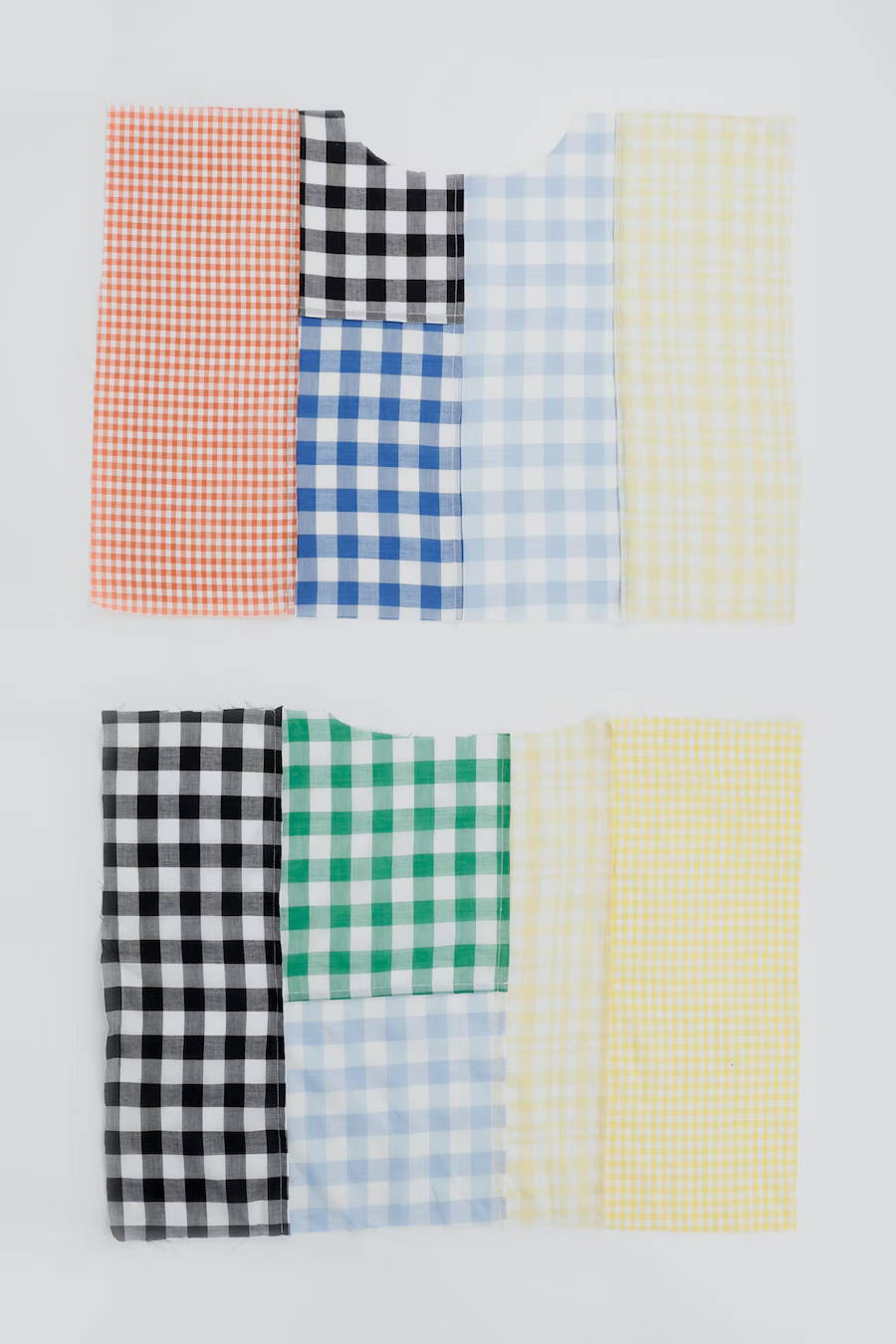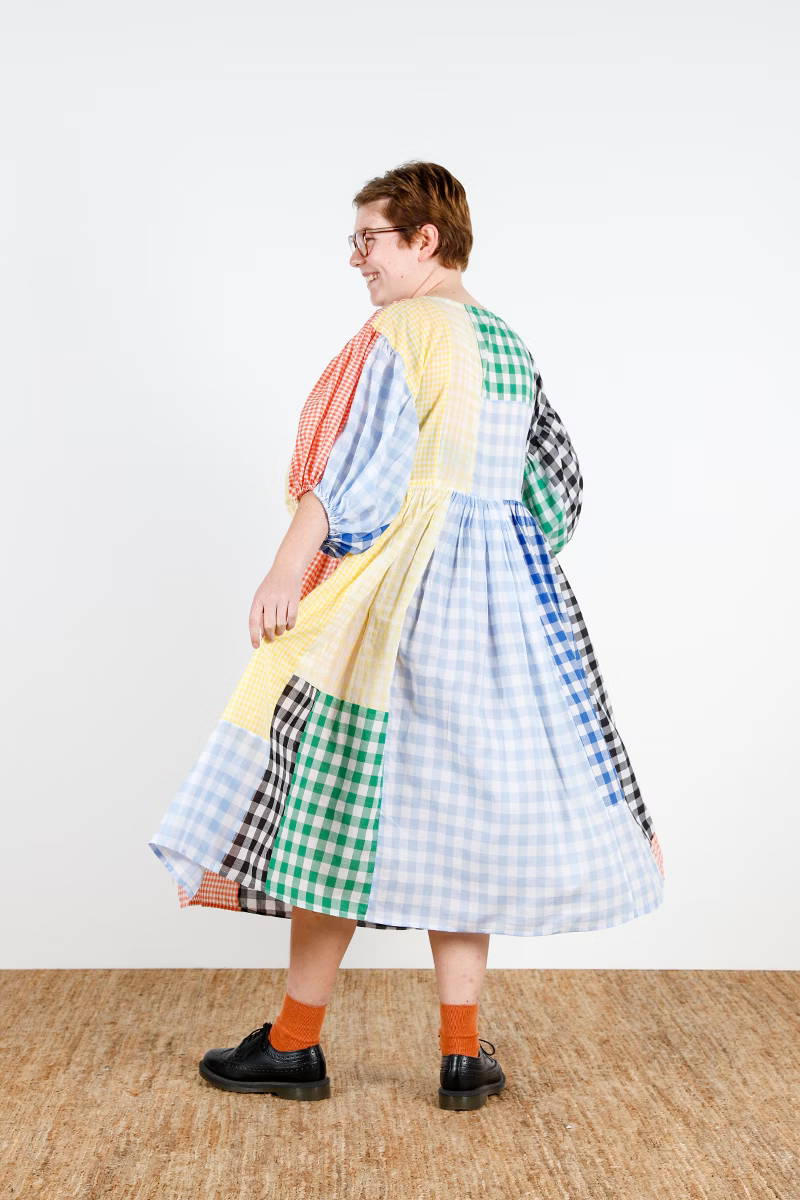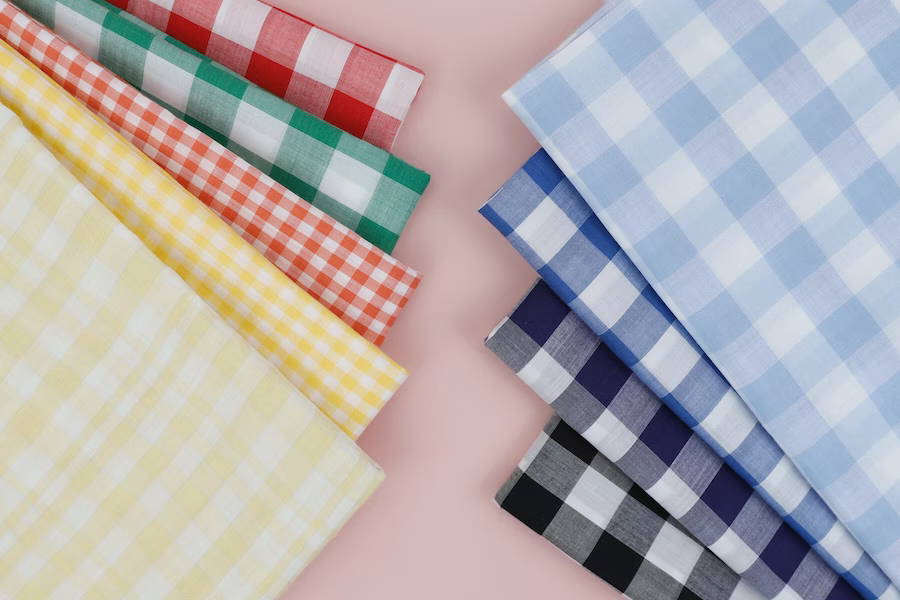 For this DIY project, you'll need woven fabric, bias binding (we cut our own), matching threads, a sewing machine and sewing scissors, a measuring tape, sewing pins and chalk, as well as an iron and ironing board. We had a bunch of these fabulous cotton blend gingham scraps from previous makes left over, and all up we used between 0.5m - 1m of the colours listed below (roughly 3.5m - 4m of fabric in total). These beauties are included in our current Spring Clean specials this week (August 29th), at a heavily discounted price. Check them out here!
Fabrics featured: Tencel / Cotton Gingham - True Blue, Day Blue and Green, plus Tencel / Cotton Mini Gingham in Yellow and Orange and a little Lightweight Variated Check - Lemon.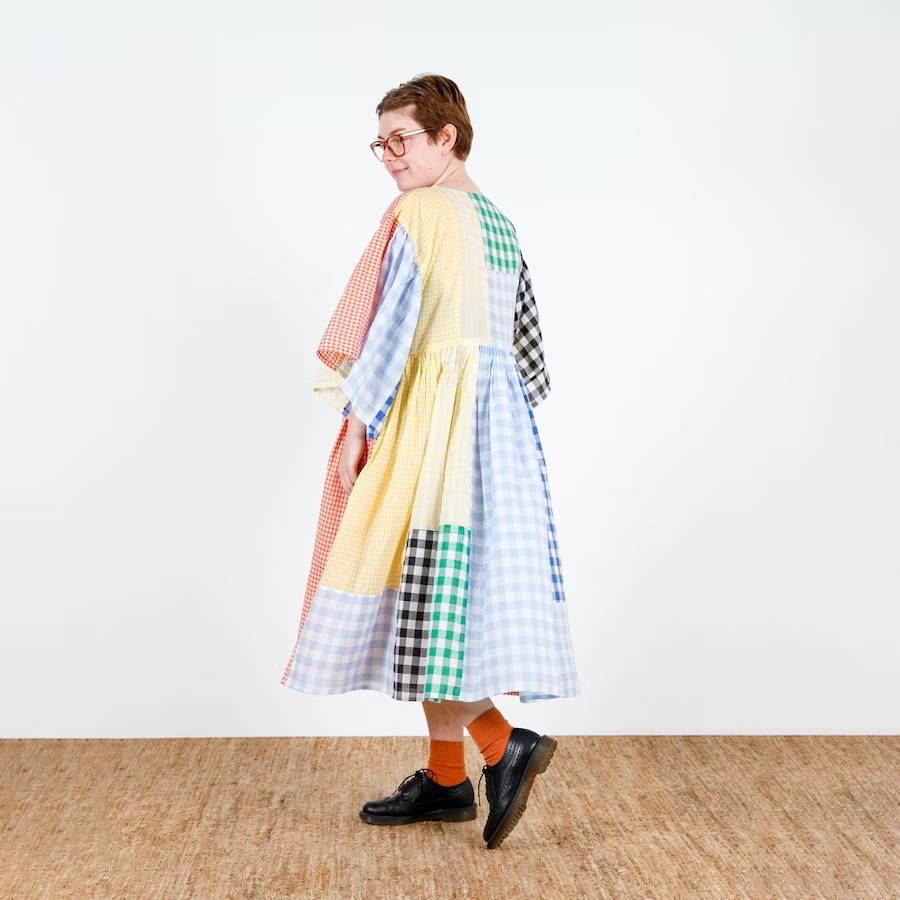 We love how this dress turned out, and would encourage anyone looking for a super-simple style for the changing seasons to give it a go! If this post has inspired you, share your sewing projects with us using #TheFabricStore over on Instagram and TikTok, we're following along!