Our latest Make by TFS pattern, the Paint Dress + Top, launched recently and we're SO excited! Choosing fabrics can sometimes be a little daunting, so wanted to share some suggestions for fabrics that work well with this pattern.
Inspired by all things painterly, the Paint Dress + Top is a year-round sculptural statement! Paint showcases a playful voluminous silhouette and raglan sleeve, gathered at the neckline and cuff. Options are available for a cuffed full length sleeve, or an elasticated short sleeve which is designed to sit at the bicep. The pattern can be cut as a dress, finishing at mid-calf, or as a top, finishing at low hip.
Paint features simple construction, a bound neckline with centre-back closure, side seam pockets and a deep turned back hem to complete the look. Paint's generous blousy fit is a dream for pairing with sandals on hot summer days, and layering up with merino and leggings for cooler months. With tons of beautiful fabrics available in stores and online at the moment, plus our massive seasonal sale underway, its the perfect time to shop for Paint projects.
Download the pattern here, and read on for fabric combination inspo!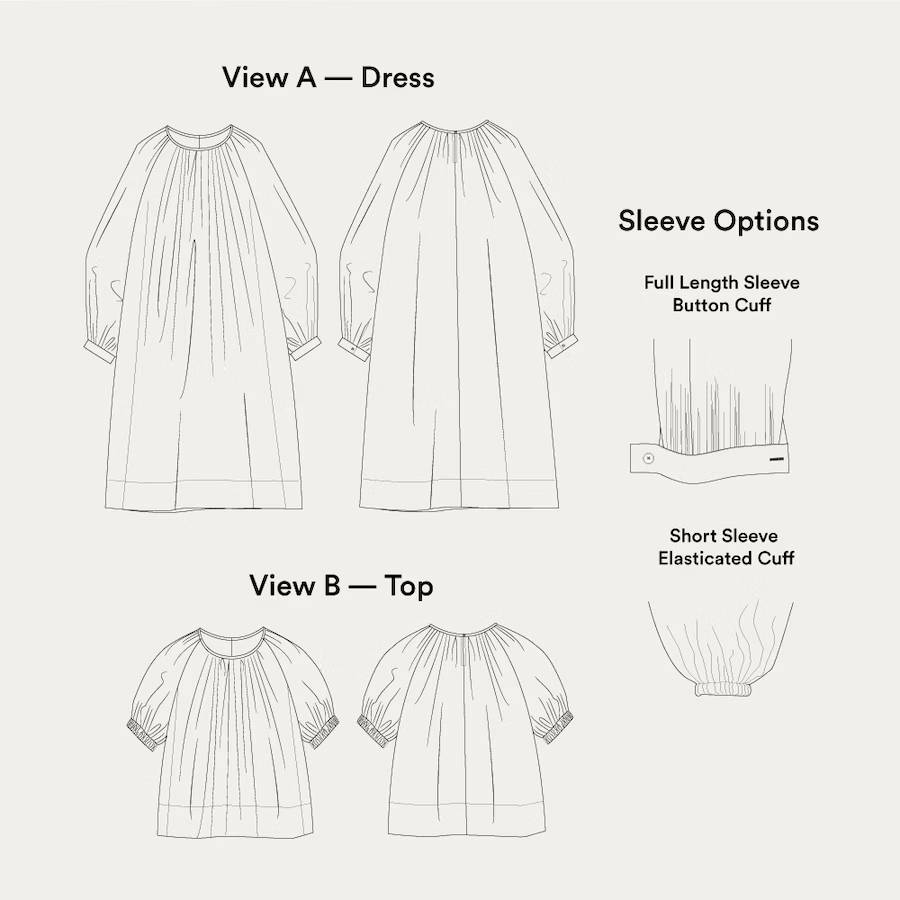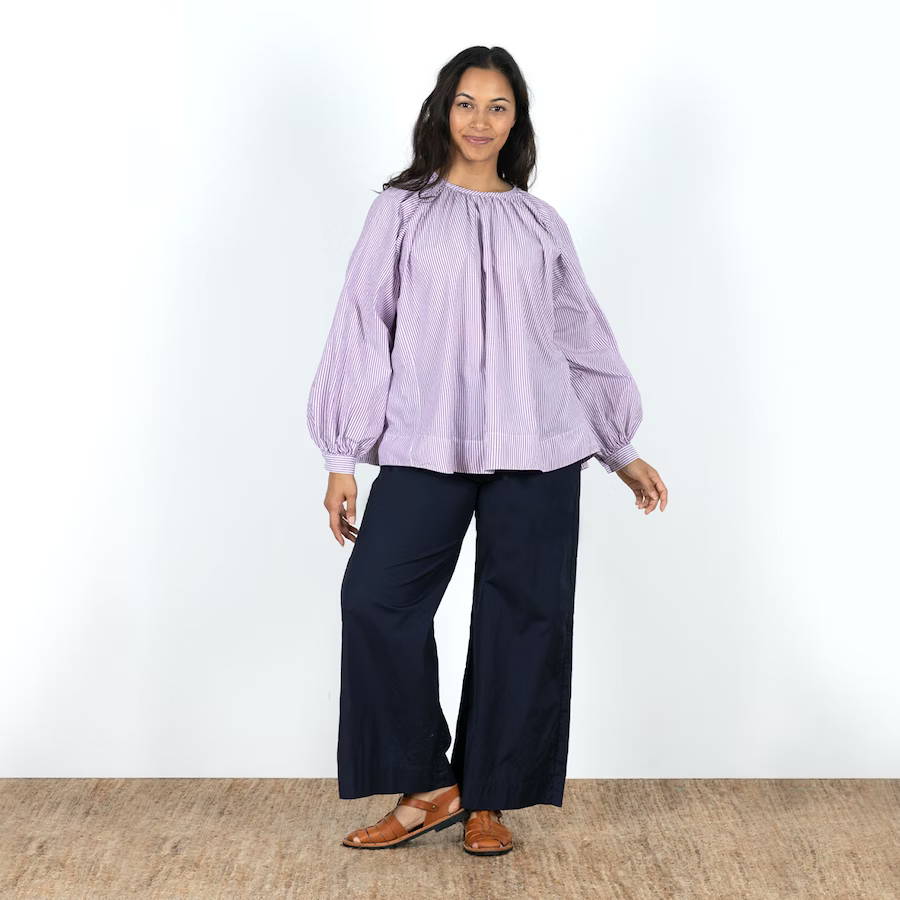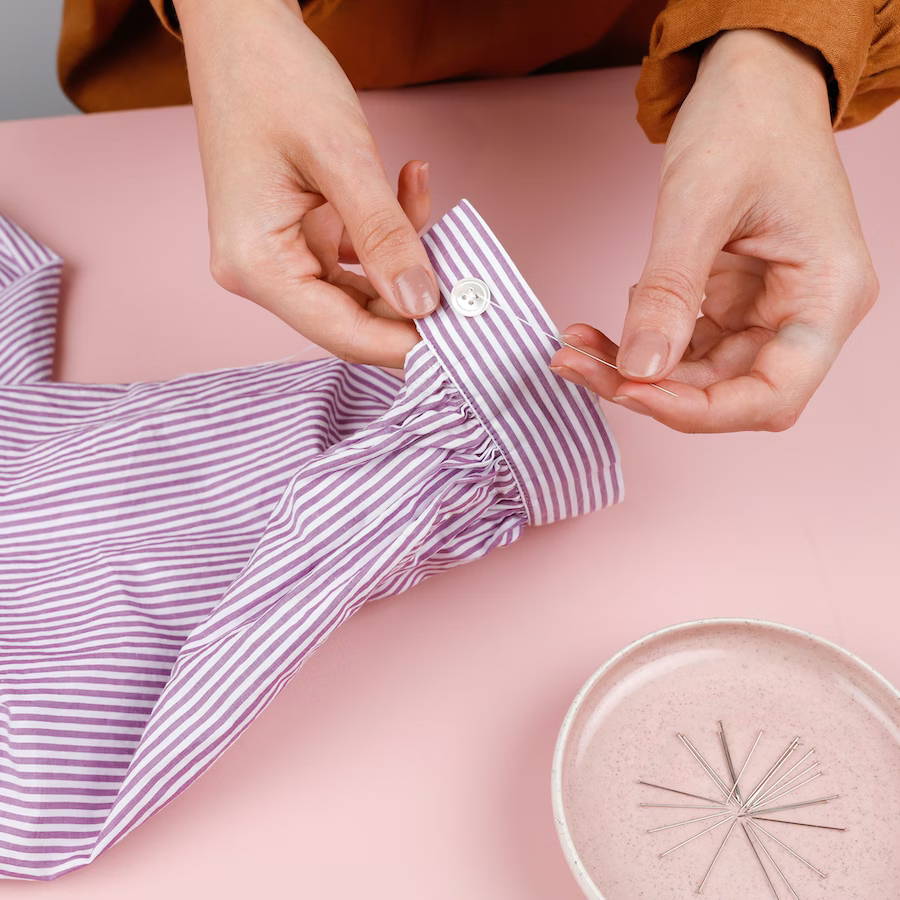 The fabric you choose will have a huge impact on the silhouette and feel of your Paint Dress or Top!
For beginners, or those seeking a simple sew, a cotton fabric in lawn, poplin, chambray or lightweight twill styles would work splendidly for Paint. Selecting a non-stretch cotton with a dense weave, such as this deadstock Small Stripe Cotton Shirting in Byzantium Purple pictured above, will ensure a stable cut and sew process, as well as a beautifully crisp finish. Browse our range of cottons online and in store; we have a huge array of designer deadstock prints, stripes, spots and textural styles to choose from!
Pictured below clockwise from the top left are our Multicolour Stripe Cotton Shirting - Yellow Mix, Fine Cotton Twill - Golden, Graphic Plaid Cotton Voile - Camel Mix, Cotton / Viscose Oxford Suiting - Cinnabar, Retro Mini Block Cotton Voile - Seaside and Regency Stripe Cotton - Chai Spice.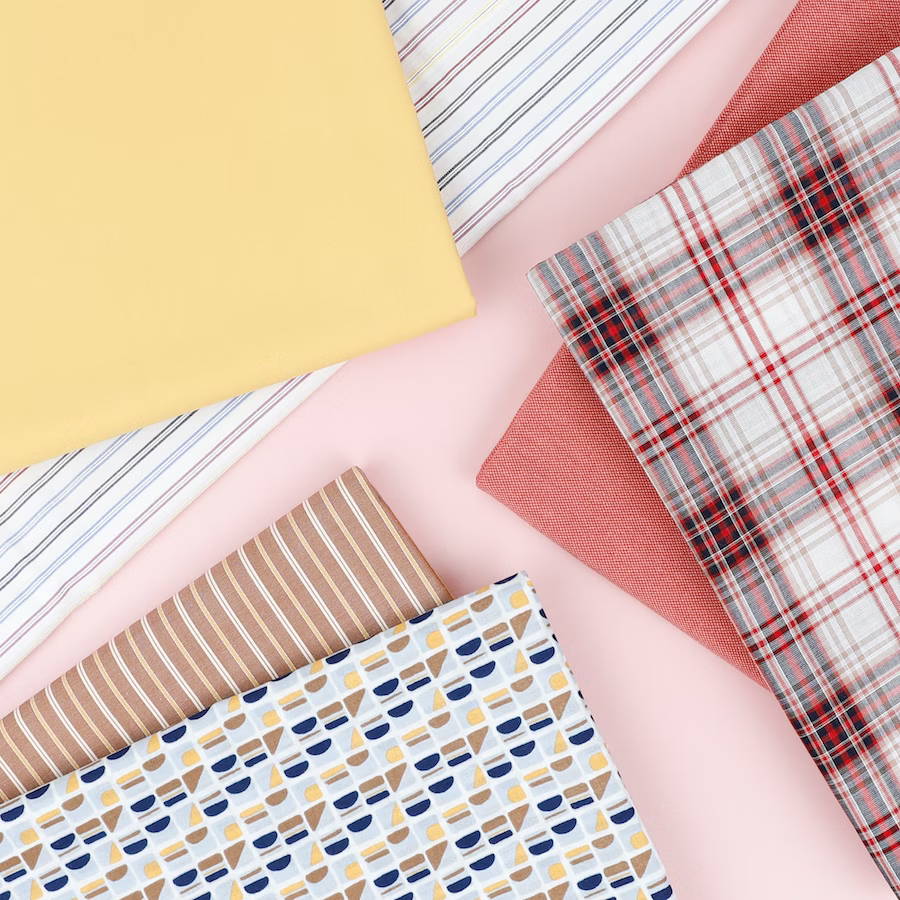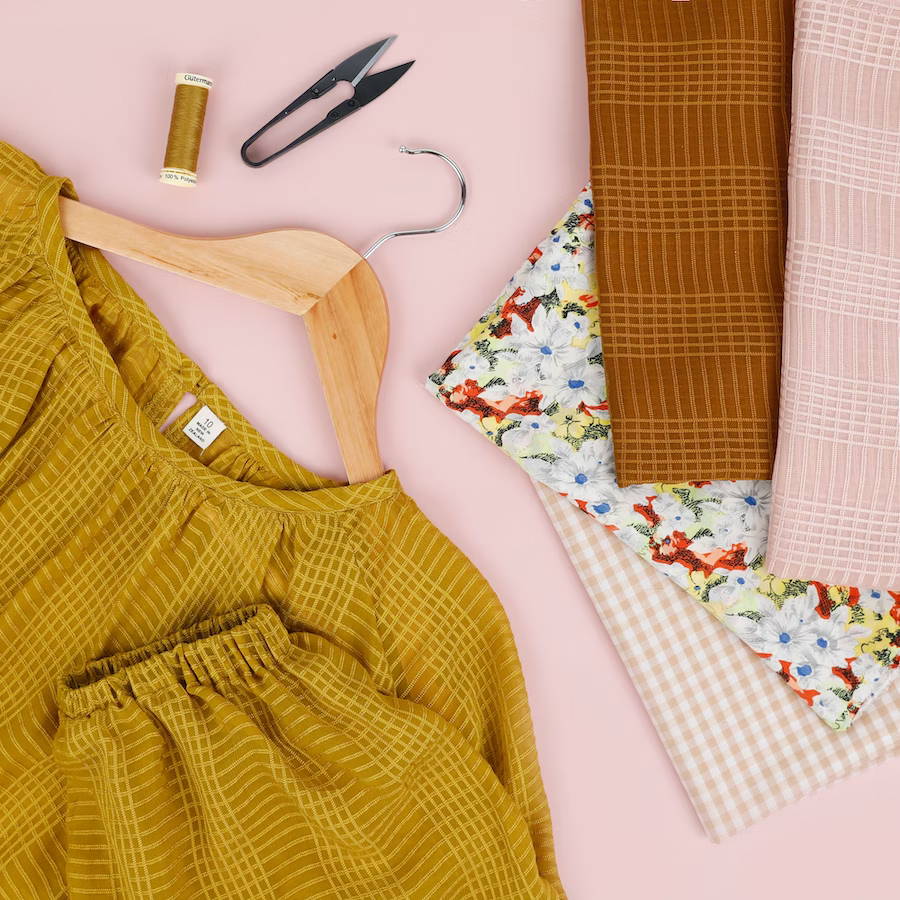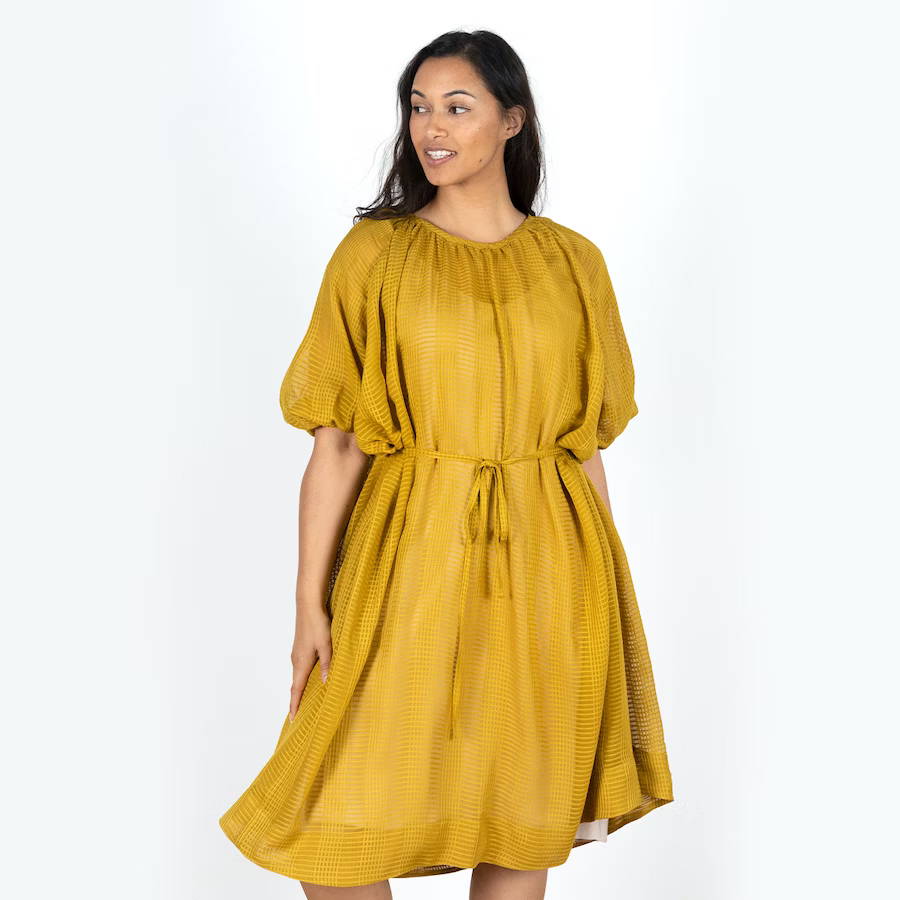 For the more ambitious sewist, and to give an ultra-chic dressy feel, we recommend trying one of our deadstock silks. Our evolving array of designer & Liberty deadstock silk fabrics provides an ongoing treasure hunt for many a seasoned sewist, with lots of these rolls one-of-a-kind and never to be seen again! We LOVE how this Sheer Check Silk, pictured above, looks and feels on the body. This luxurious fabric has been woven with a georgette base and a thicker silk yarn stripe on both the warp and weft which combine to create a check pattern. It's a little sheer, and our model is wearing a nude slip underneath.
Start your silk treasure hunt in store or online today and snap up something special!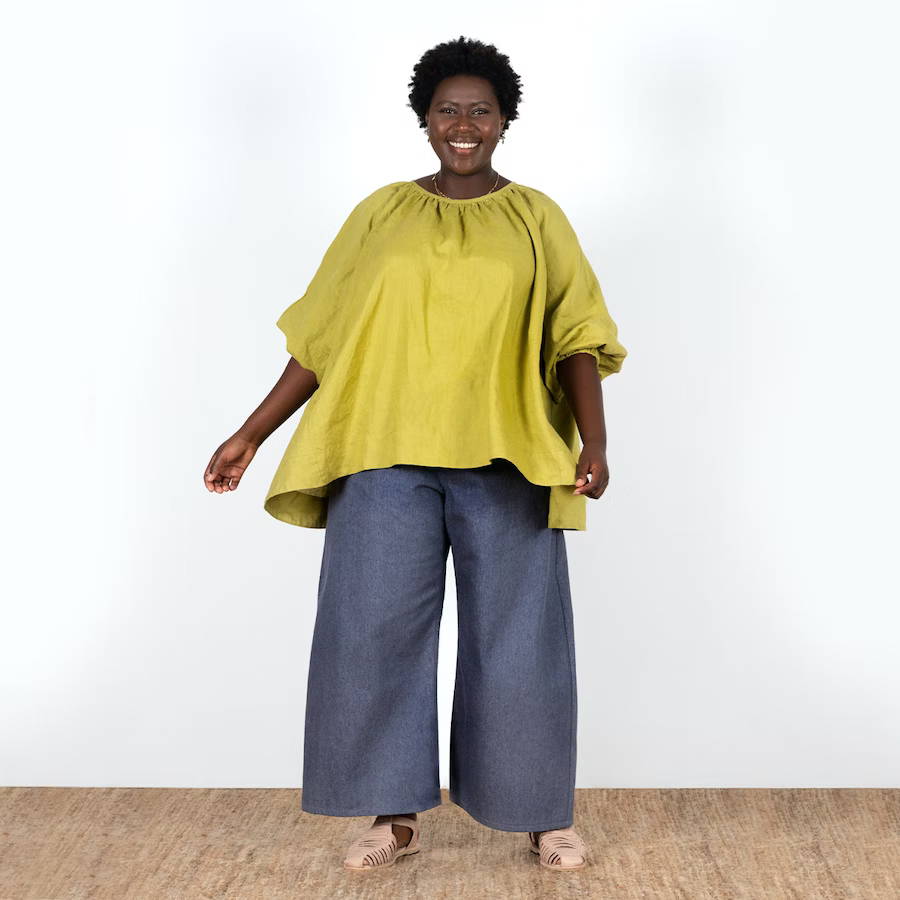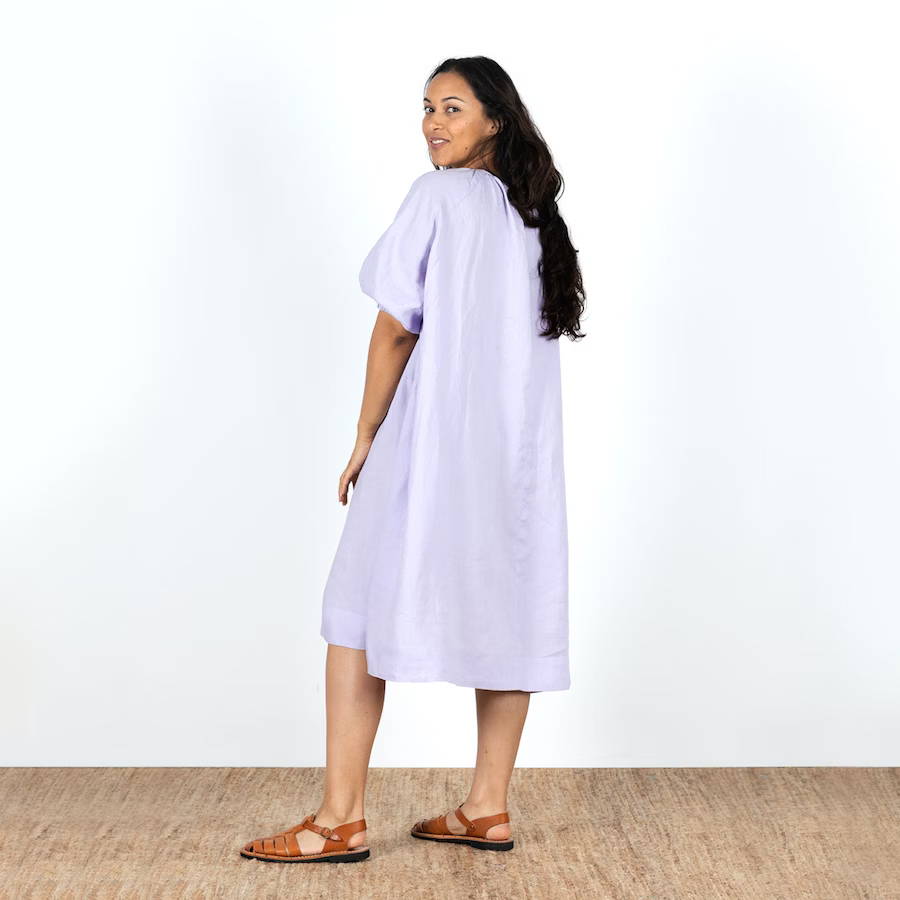 Our Exclusive Organic Linens pictured in Celery (Paint Top worn by Adorate) and in Lilac (Paint Dress worn by Layla)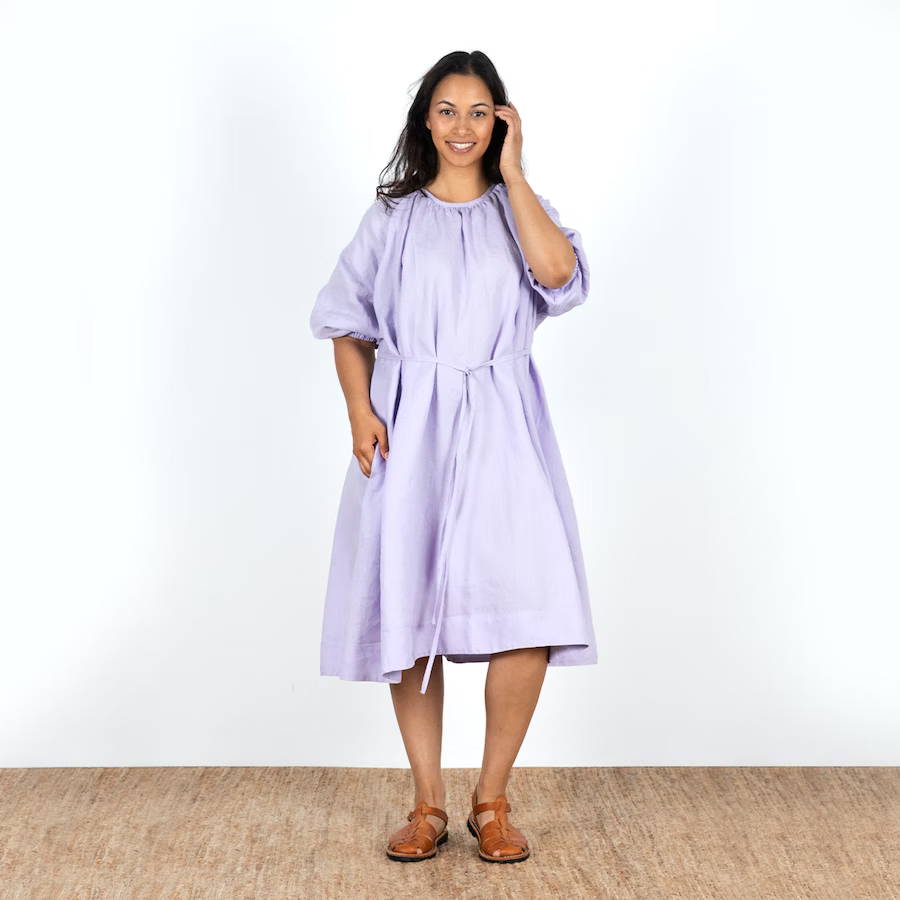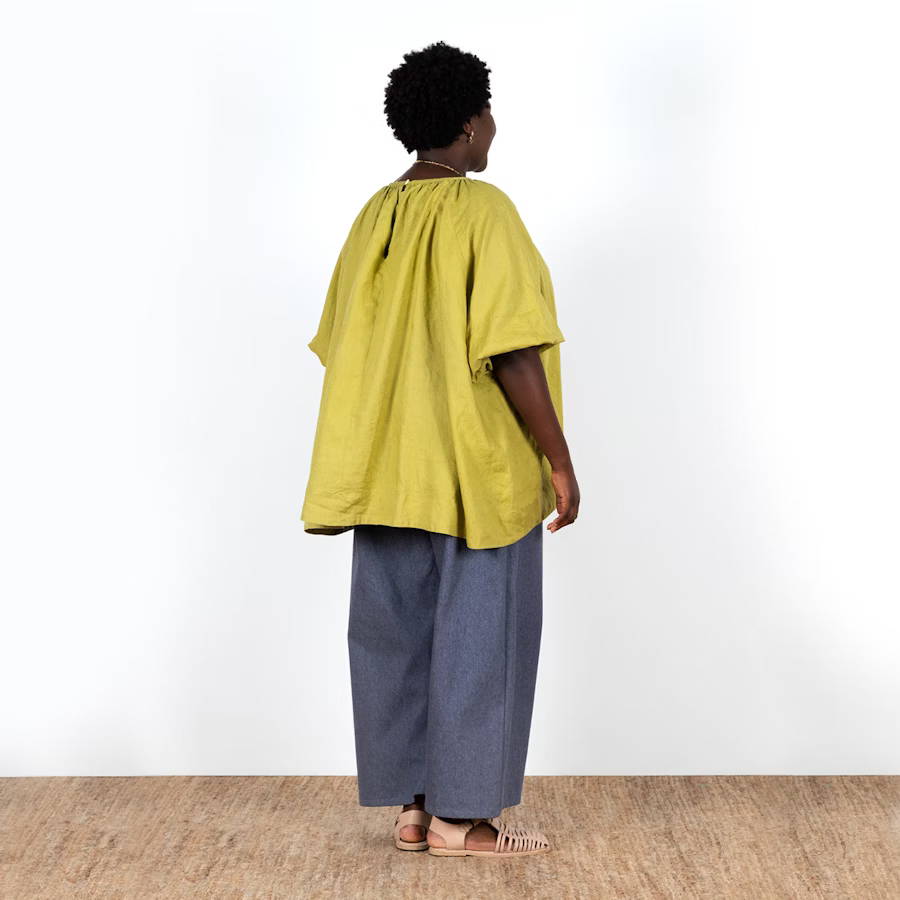 It's no secret that we are huge linen fans here at The Fabric Store, our go-to fabric for sew many patterns! The Paint Dress + Top is no exception, with a light-midweight linen lending the silhouette a lovely sculptural feel. As well as being super easy to sew, linen fabric has a lovely earthy feel, starting off crisp but softening beautifully in time with wash and wear. Our popular range of Organic Linens comes in a wide range of colours, and we have loads of textural deadstock linens available too! Our ever-evolving deadstock collection includes an array of patterns, chambrays, stripes and blends.
Check out a few available online below, from top to bottom are Linen / Rayon - Barley, Meadow Blooms Stretch Linen / Cotton - Blue Tang, Linen / Cotton Tattersall Check - Red / Blue, Linen - Pink Camelia and Linen Chambray - Strawberry Ice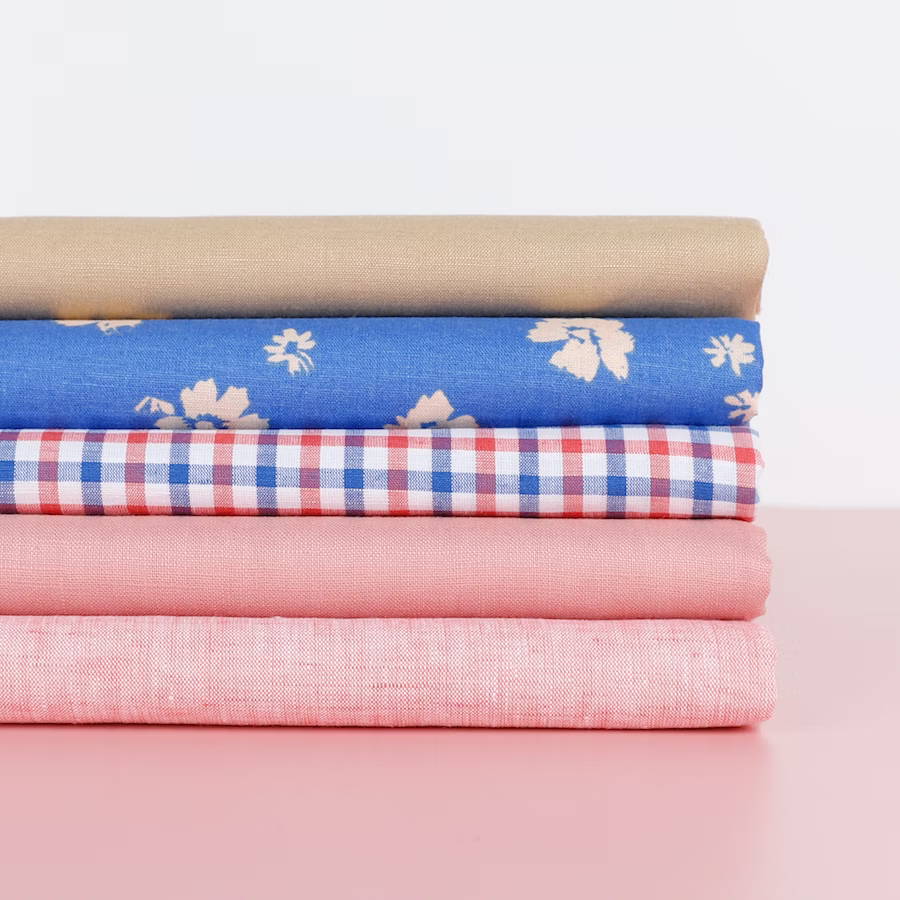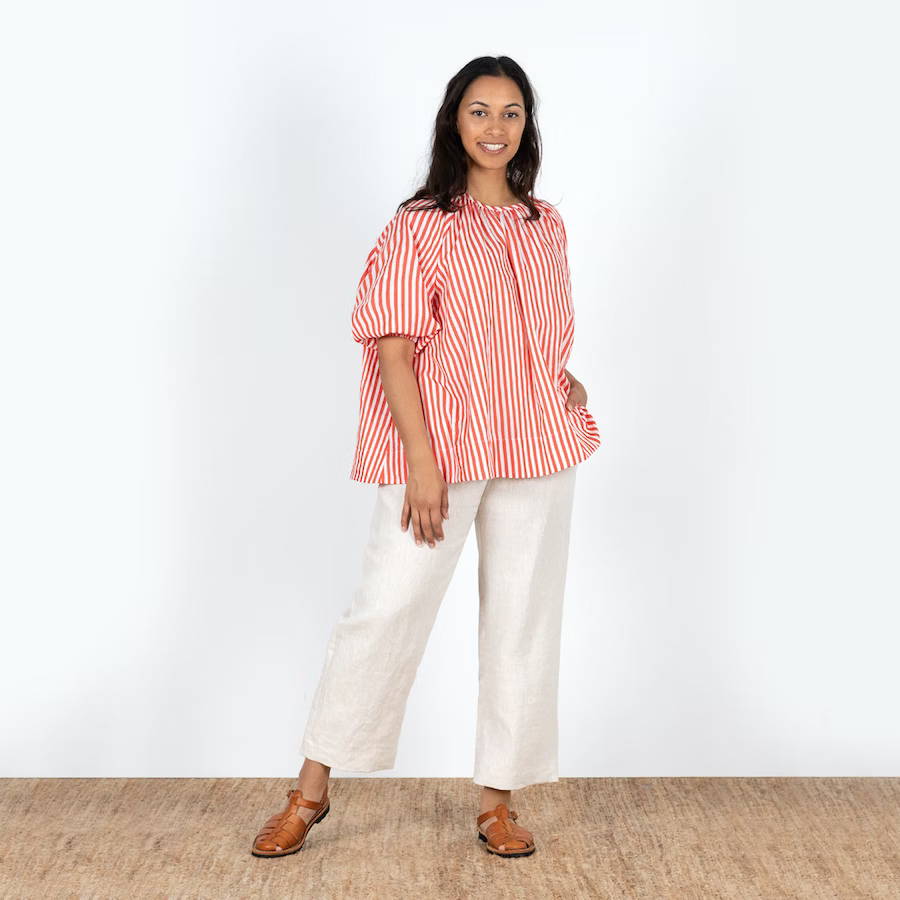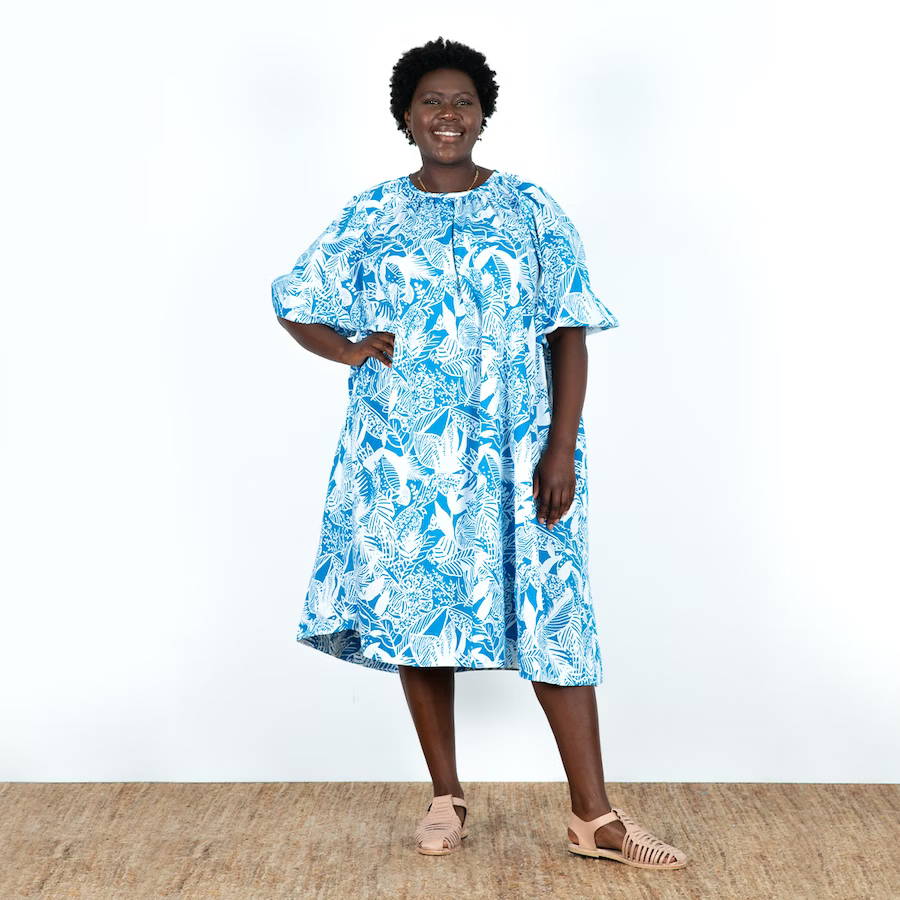 Above, Layla wears our Paint Top in Candy Stripe Cotton Poplin, and Adorate wears our Paint Dress in Leaf Jumble Cotton!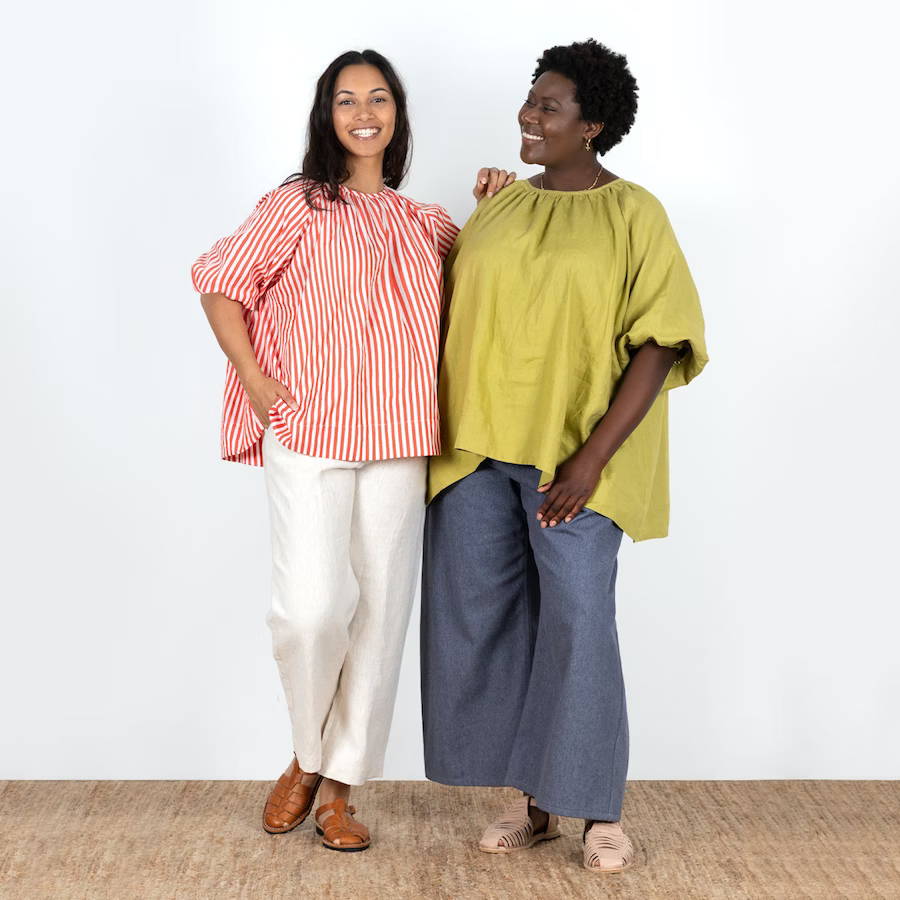 Don't forget to consider pre-washing your fabric before you get started! We recommend pre-washing washable fabrics before you cut your pattern out, to ensure your finished garment does not shrink. Check out our fabric care guidelines here for more info.
Ready to sew? Follow our free step-by-step sew along blog posts to work through making your Paint Dress or Top! We can't wait to see your Paint projects come to life - don't forget to share yours with us on Instagram by using #TFSPaint and #MakebyTFS