A bright and cheerful, fuss-free table setting is a must-make for any sewist during the festive season! Forgo the de rigueur of matching neutrals and let your imagination run; we're loving relaxed table ensembles simple enough to throw together on a whim, featuring an eclectic palette of colours perfect for mixing and matching. Add a billowing handful of your favourite florals and perhaps a candle or two, and your stage is set for dinner party goodness!
It couldn't be simpler to cut and stitch the edges of a table cloth and napkins and patch yourself a pair of oven mitts, making this a suitable DIY project for even the newest of sewists. Read on for more, featuring hand-picked hydrangeas and a stellar assembly of colourful linens by Juniper from our HQ team.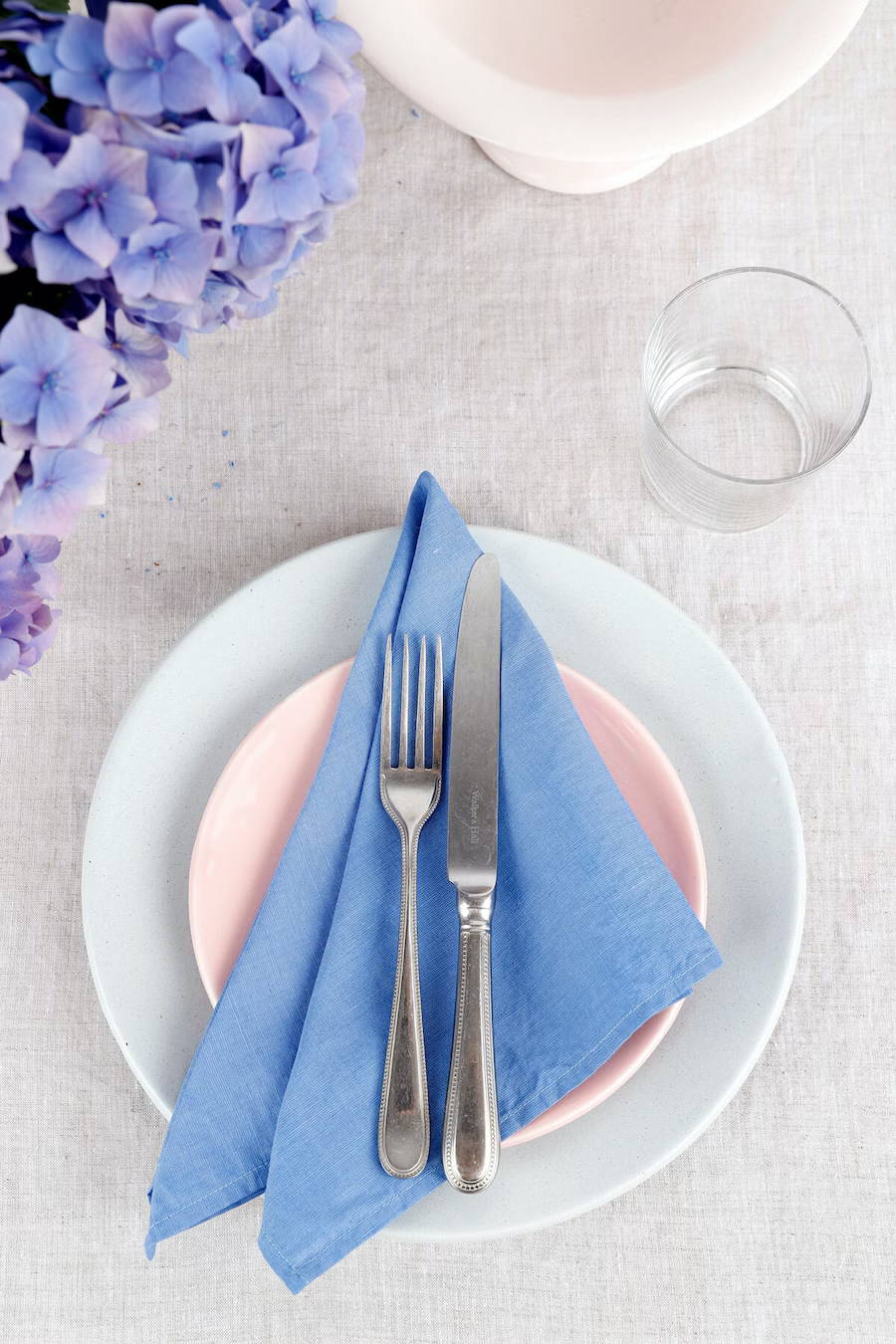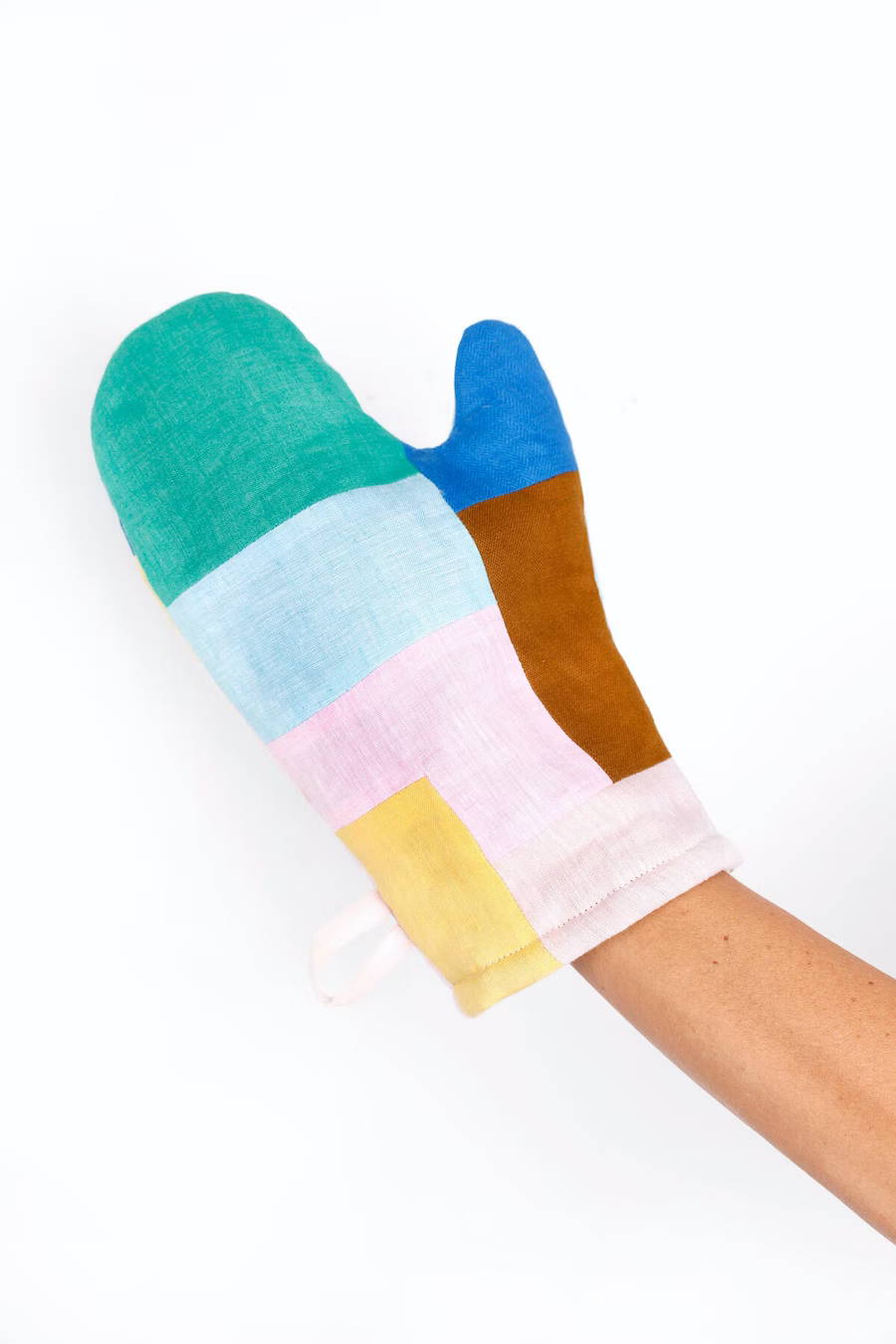 Kate and Klarissa at Bombazine have the sweetest pattern for DIY Oven Mitts over on their website, and its free! It's the perfect scrap busting DIY gift for that pal who loves to cook and entertain, and takes about an hour to make.
We used a combo of fabric scraps from previous projects, including Organic Hemp — Pink Salt , Herringbone Linen — Cobalt , Vintage Finish Linen — Buttercup , Linen Chambray — Aqua, Linen Chambray — Lilac, Linen Chambray — Candyfloss , Heavyweight Linen — Chestnut Yarn Dyed Linen — Peppermint, Poly Chambray — Fluro Melon, and Linen Cotton Tatersall Check Blue Purple.
The first step was to stitch our linen scraps together into 4 squares of approximately 30cm x 40cm in size. Following Bombazine's instructions, we then cut out the mitt pieces using the pattern provided. You then need to cut out the batting (wadding) and baste this to the oven mitts. We used recycled wool for our batting, which we repurposed from some packaging used to wrap up a team lunch (thanks JUK!). This turned out to be the perfect thickness, handy! Bombazine recommends using wool coating scraps or old blankets for this layer too, as they'll provide the necessary heat insulation. You then simply join the mitts together, bag out your lining (we used Organic Hemp in Pink Salt) and leave a little hole to turn through. We added 8cm to the length of our mitts, to give extra wrist protection, and choose not to do any quilted topstitching.
Download your free Oven Mitt pattern and instructions here.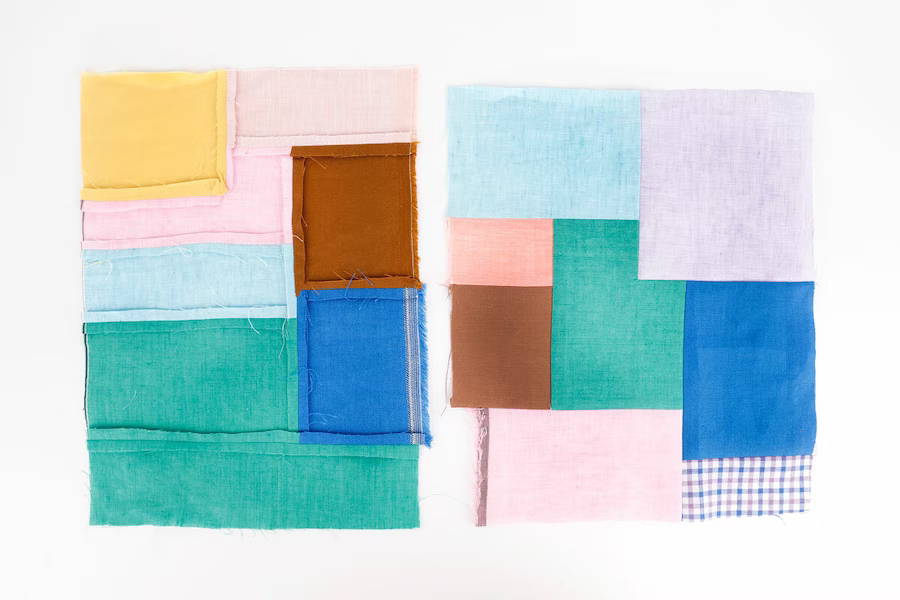 We LOVE the colourful result, such a joyful and practical addition to any makers kitchen!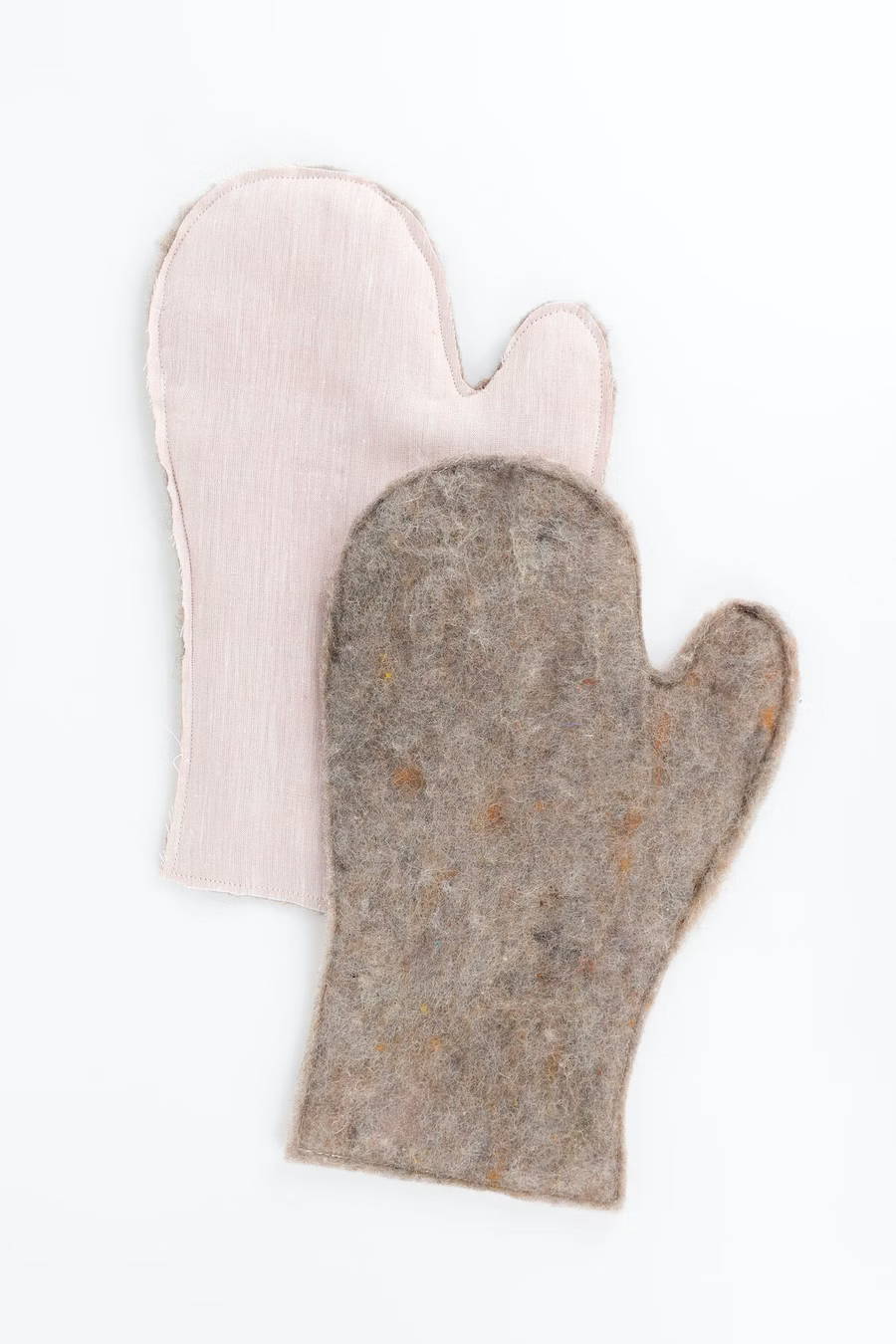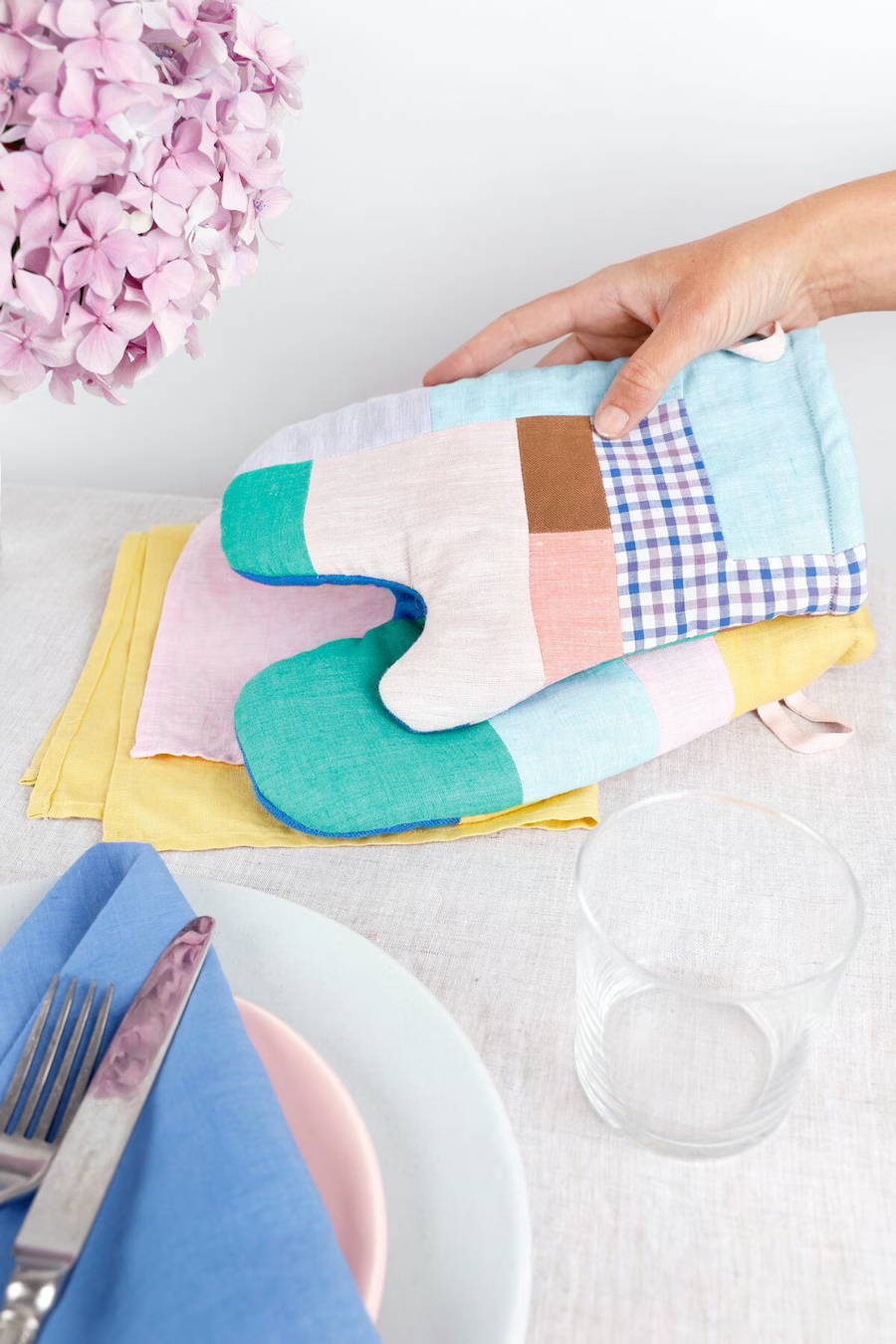 DIY Project — Table Cloth + Napkins
This is by far our most simple make! If you are able, measure your table (or an existing table cloth you own), to give you an idea of the best size to make your cloth. Ours was for a small two-person table setting, so we only used 1m x 1m of our Buckwheat Organic Hemp. Whatever size you wish to make, add a 2cm seam allowance to your dimensions before you cut, and then simply double turn and edge stitch all the way around the table cloth. Too easy! It helps immensely to iron the double folds before you stitch too, especially when working with soft bouncy linen.
The method is the same for stitching your napkins, but you may wish to make the edges a little smaller. We cut squares 46cm x 46cm, and double folded 5mm before edge stitching down. Hmm, now what colours to choose...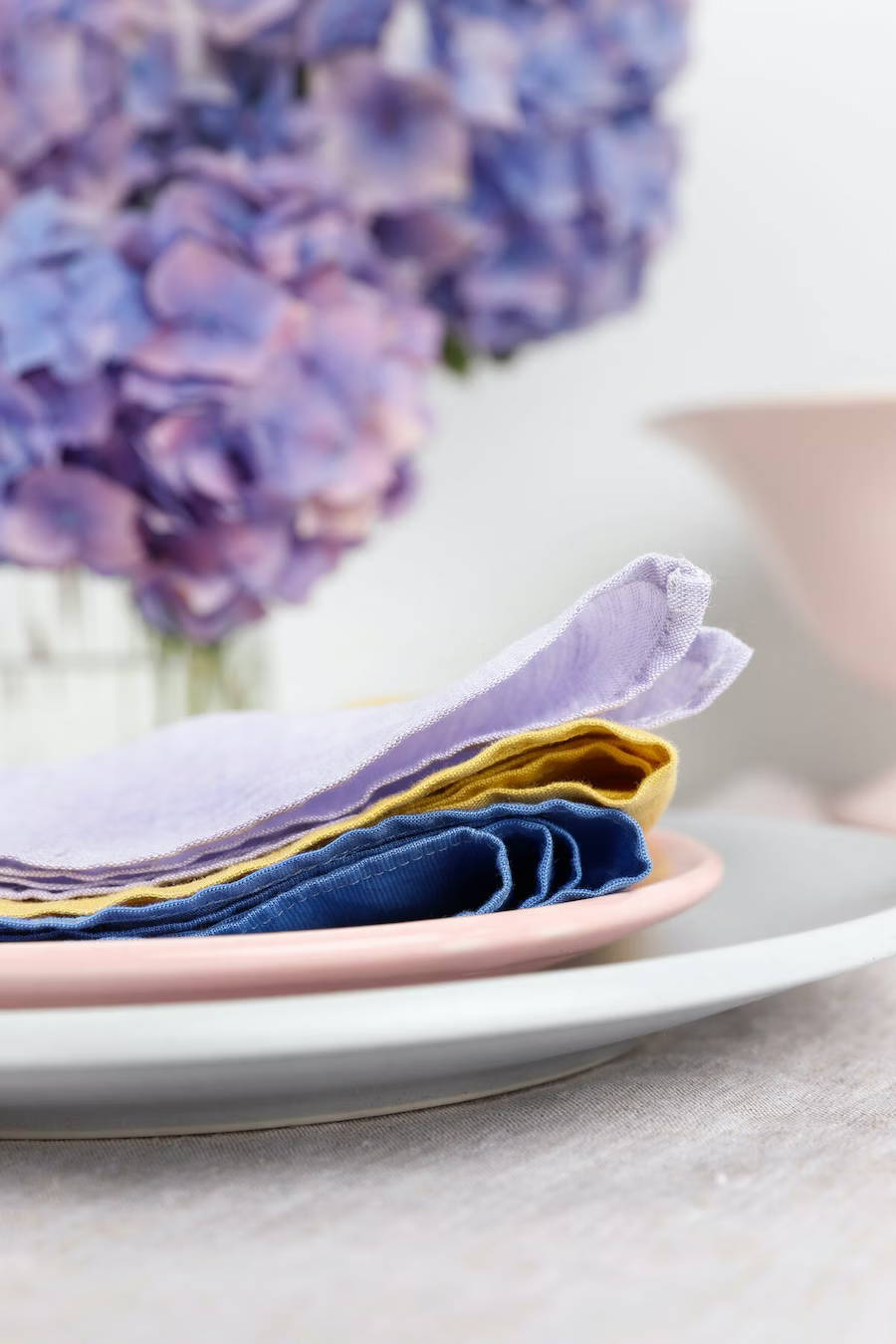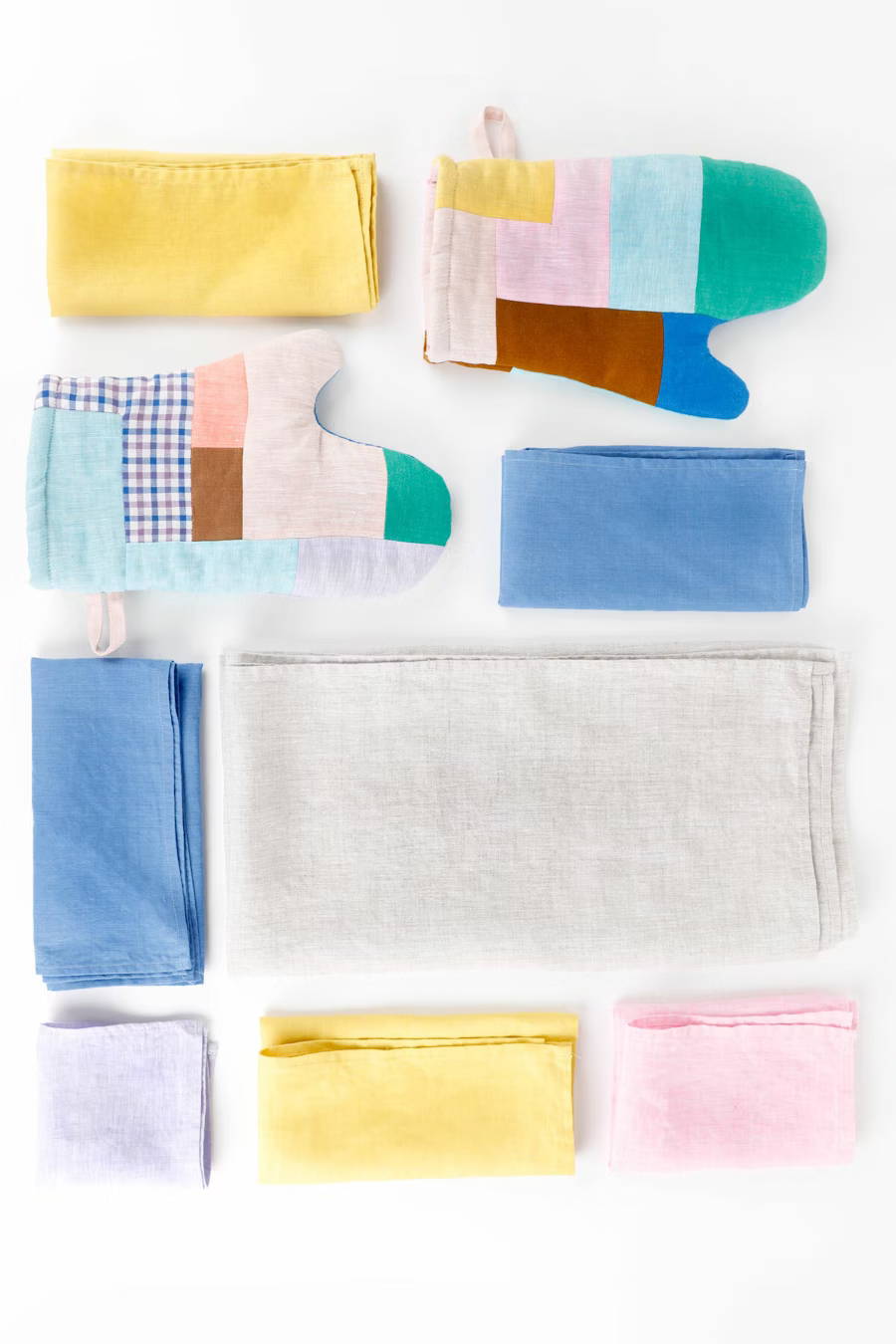 We suggest raiding your stash for suitable fabrics like cotton or preferably linen, as it has good absorbency and dries quickly. You can also use our Organic Hemp, which we've done here! Hemp is wonderfully absorbent, lightweight, and fluffs up nicely when washed and dried.
If you're making the Oven Mitts, don't forget your heat insulation layer (wool coating or batting) and a soft fabric such as cotton lawn or poplin for the lining. Head over to our Online Store and check out the huge variety of Vintage Finish Linen and Gingham Linen colours we have available, as well as our Organic Hemp range here!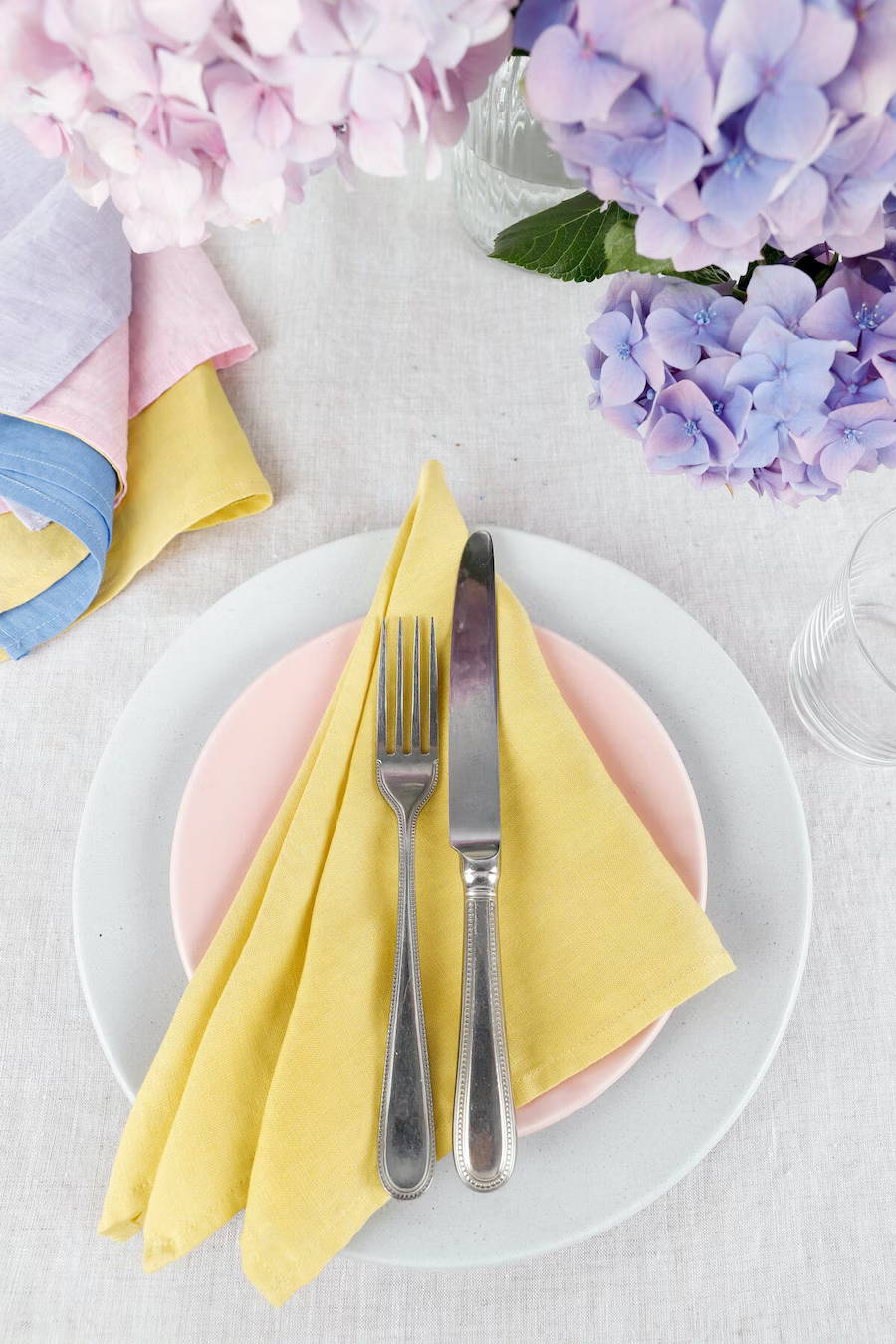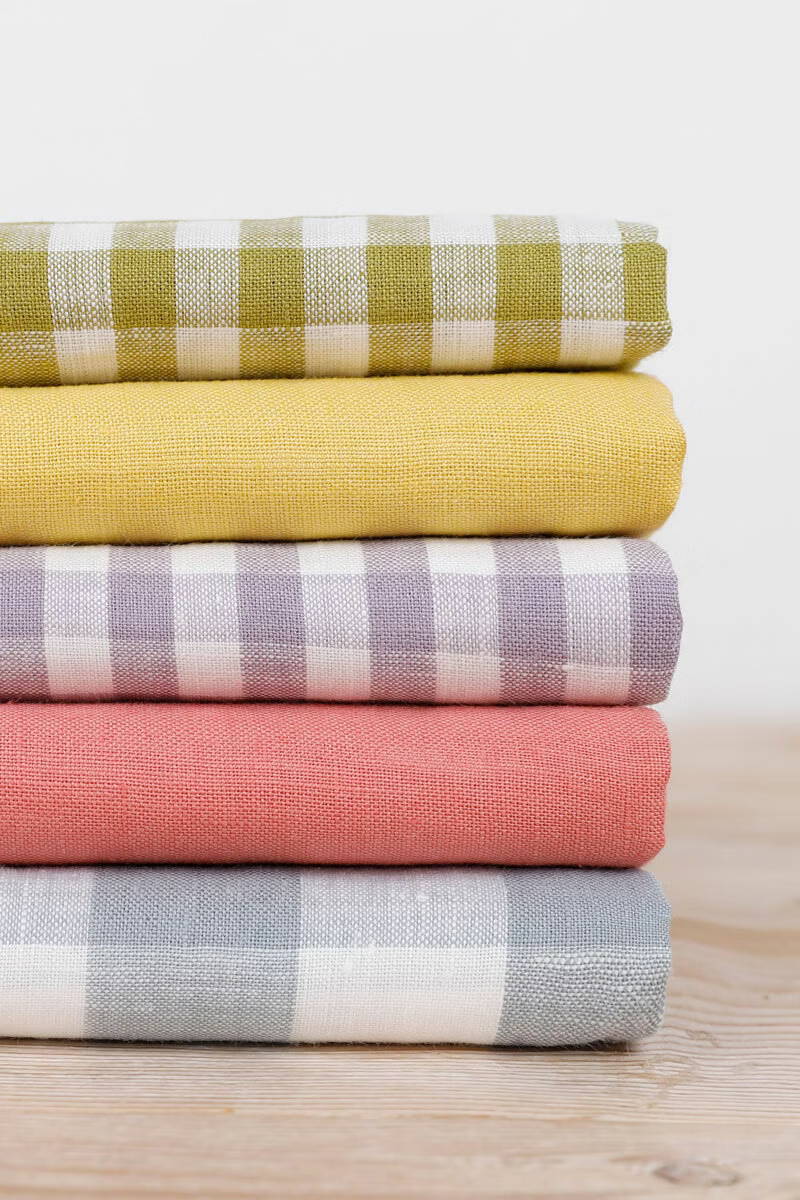 We're feeling all the best celebratory vibes with this make! A simple table set and oven mitts would make an easily customisable gift for the creatively minded folks in your life, and what a great way to keep your sewing circular by using up scraps! Share your makes with us over at @wearethefabricstore using the hashtag #TheFabricStore

Love the plates we've used? They're made by our dear friend and ceramicist Kate McIntyre, you can find her beautiful work over at Kaolin Store.