Fellow Auckland sewists will likely be familiar with Katie Mantell as the dedicated and hardworking maker behind local educational studio Thread Room. With a fashion design degree and industry experience under her belt, Katie has spent the last few years teaching sewing through workshops from her North Shore base. This week we take a behind-the-scenes look into Katie's warm, modern studio space, and chat to her about her sewing journey to date, plus projects past and present.
Hello Katie, please give a brief introduction of yourself to our readers!
Hello! My name is Katie, I am a maker and small business owner living in Auckland, New Zealand. I run Thread Room, which is a sewing teaching studio. We teach sewing classes for kids, teens & adults all across Auckland. We want to make learning to sew a joyful process.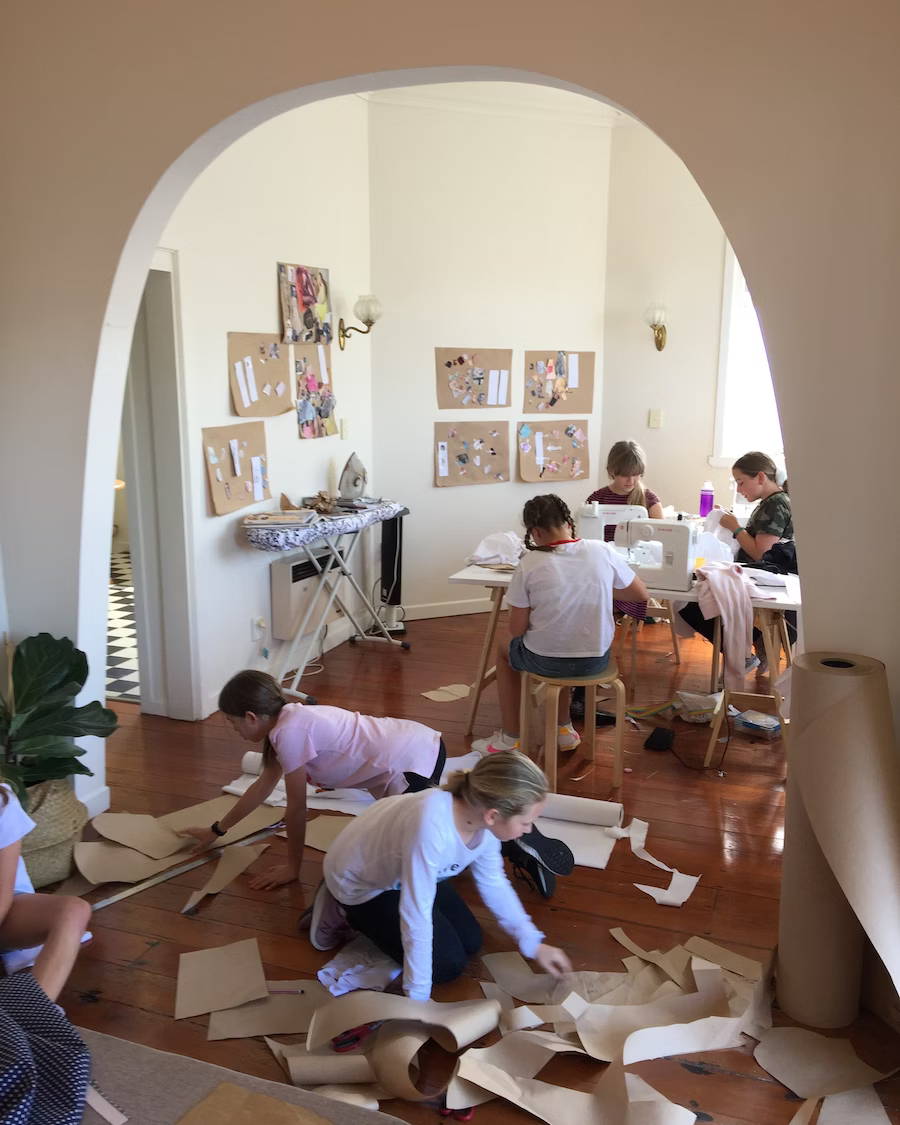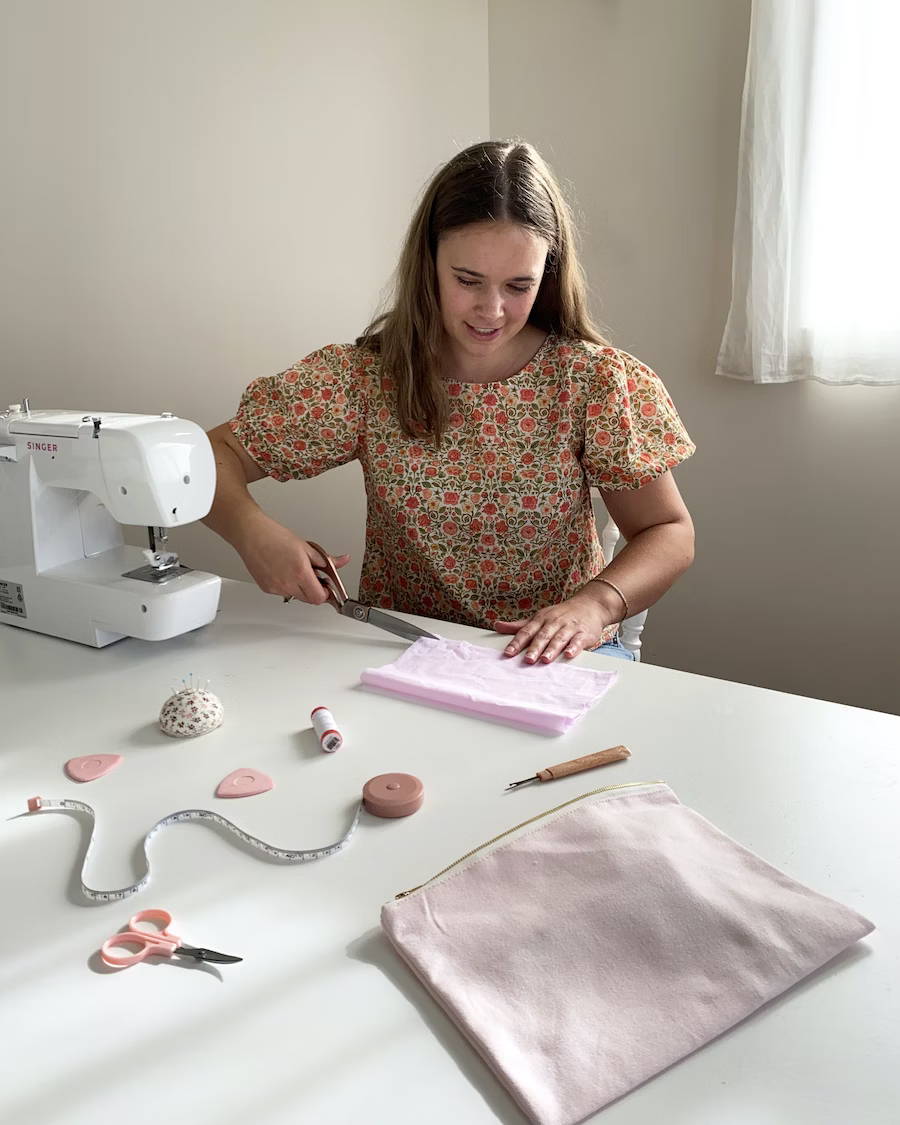 What led you to sewing, and how long have you been sewing for?
I grew up with my mum and my aunties doing a bit of sewing so I was always fascinated by it. In high school I was lucky to have an amazing soft-tech teacher. As soon as I started those classes I knew I wanted to do something to do with sewing. I just thought the process of turning a flat piece of fabric into a wearable garment was magic. I then went on to study fashion, work for a fashion label and then I started teaching. Thread Room is now my full-time thing and I spend as much of my spare time as possible at the sewing machine.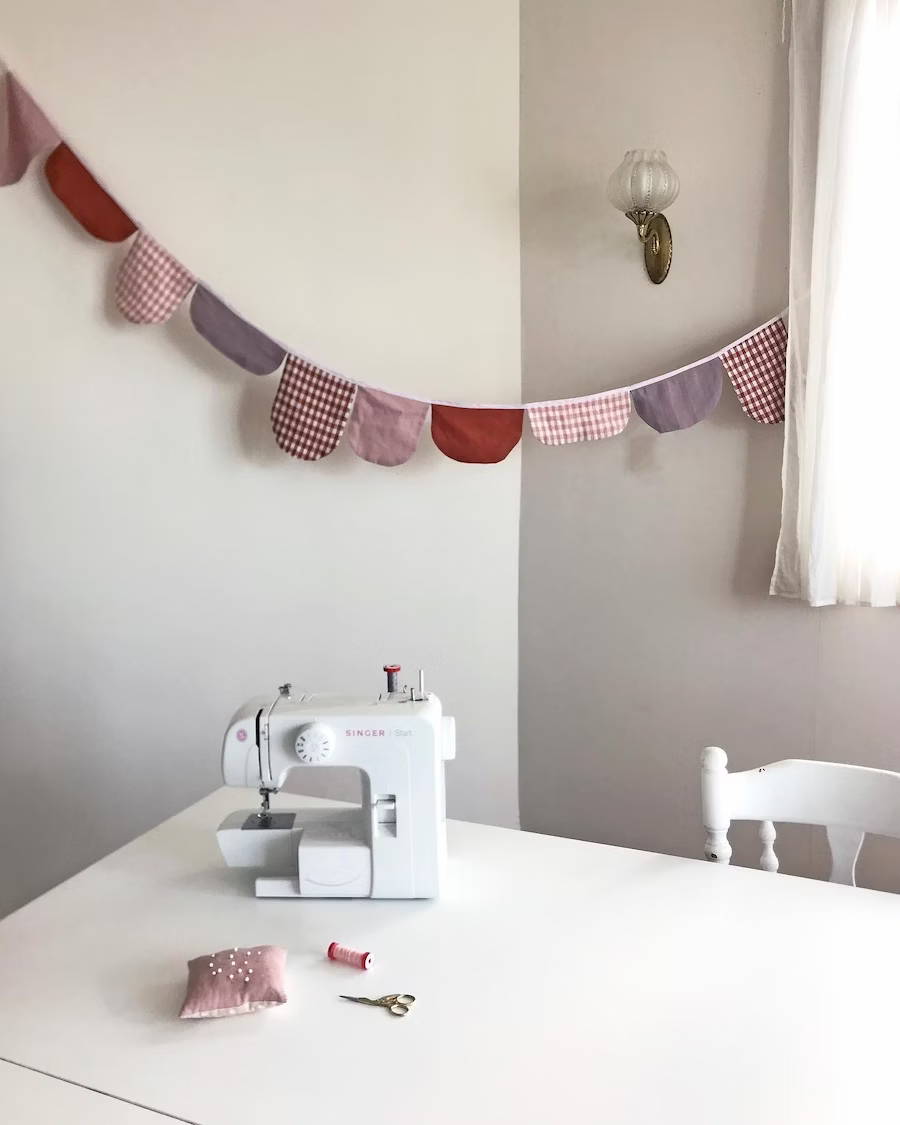 Describe the space you use for sewing in 5 words... "Happy, fun, light, joyful, messy"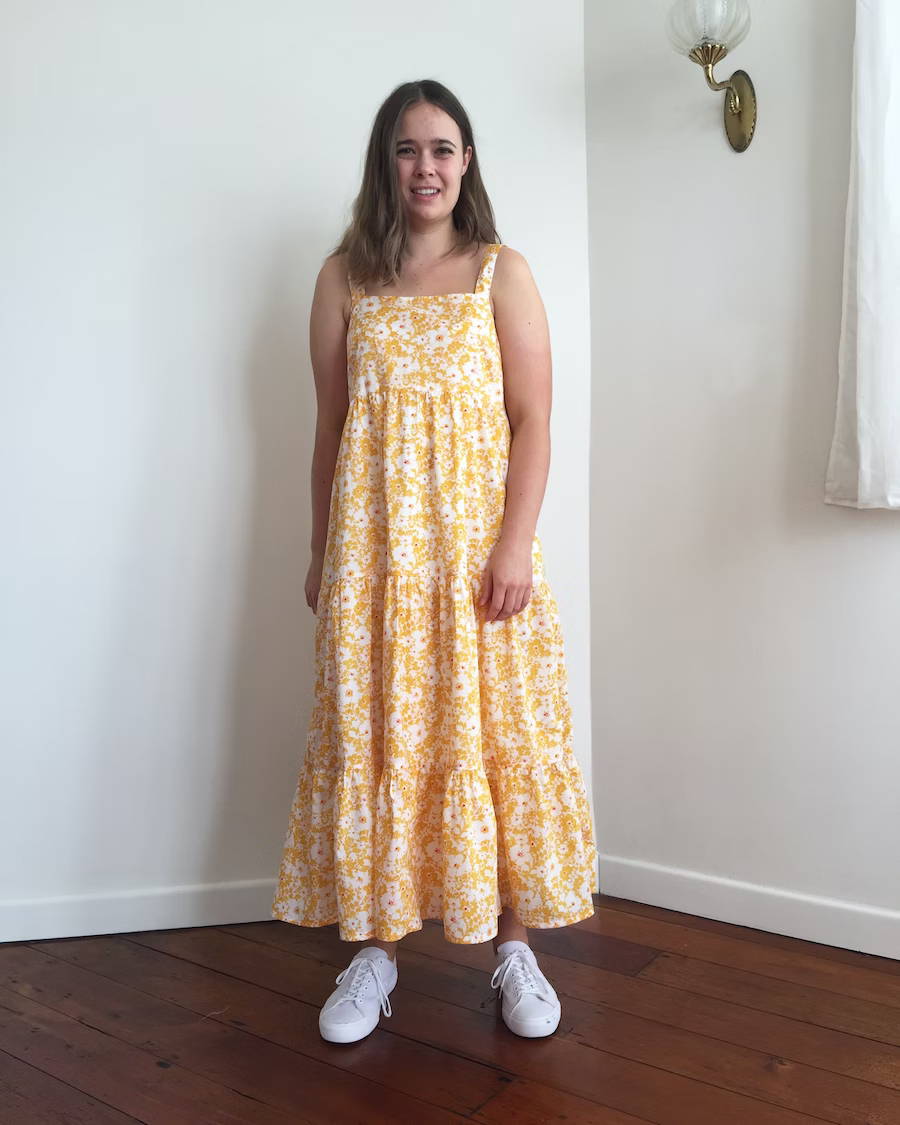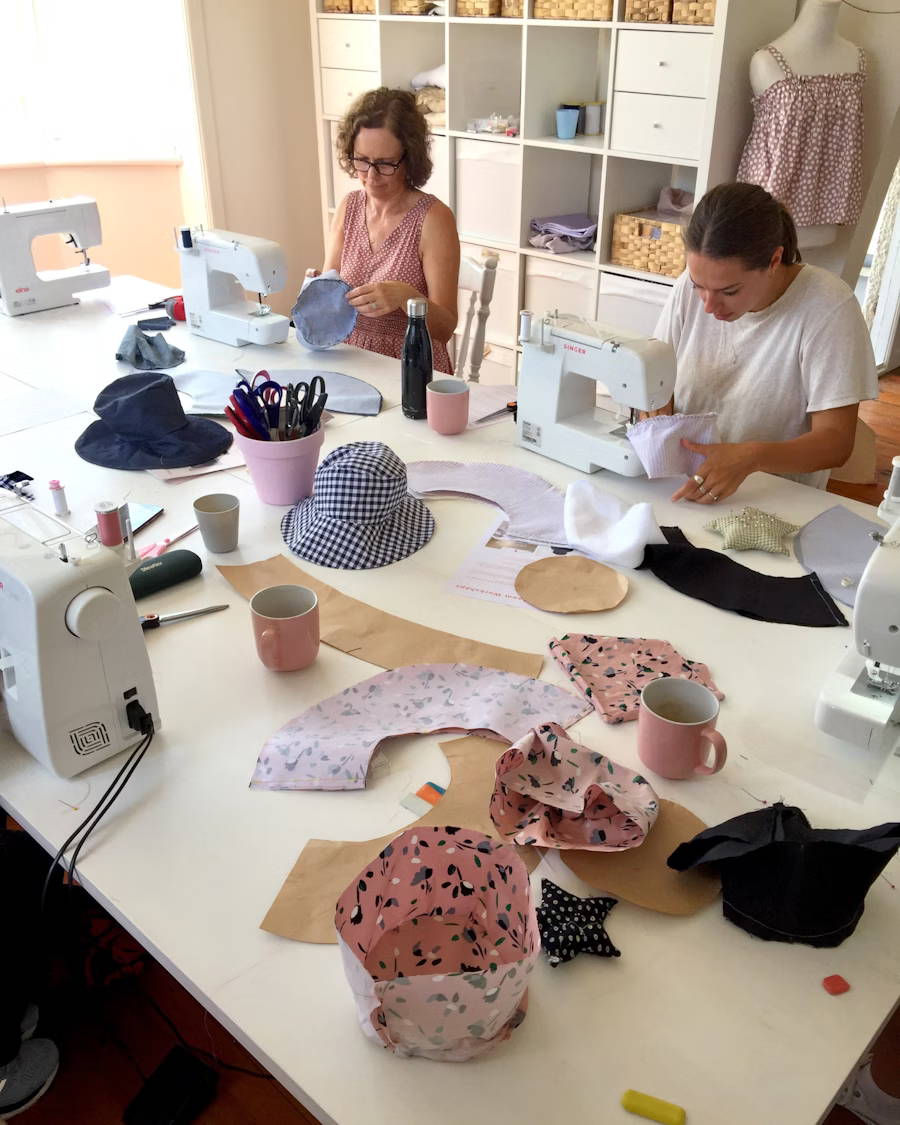 Tell us the story of your favourite wardrobe item
This would have to be my tiered dress in the yellow Liberty Tana Lawn from The Fabric Store! I made this dress during one of the many lockdowns because I thought the bright sunshiny yellow would cheer me up. It certainly worked and even now years on, every time I wear that dress I feel like a ray of sunshine.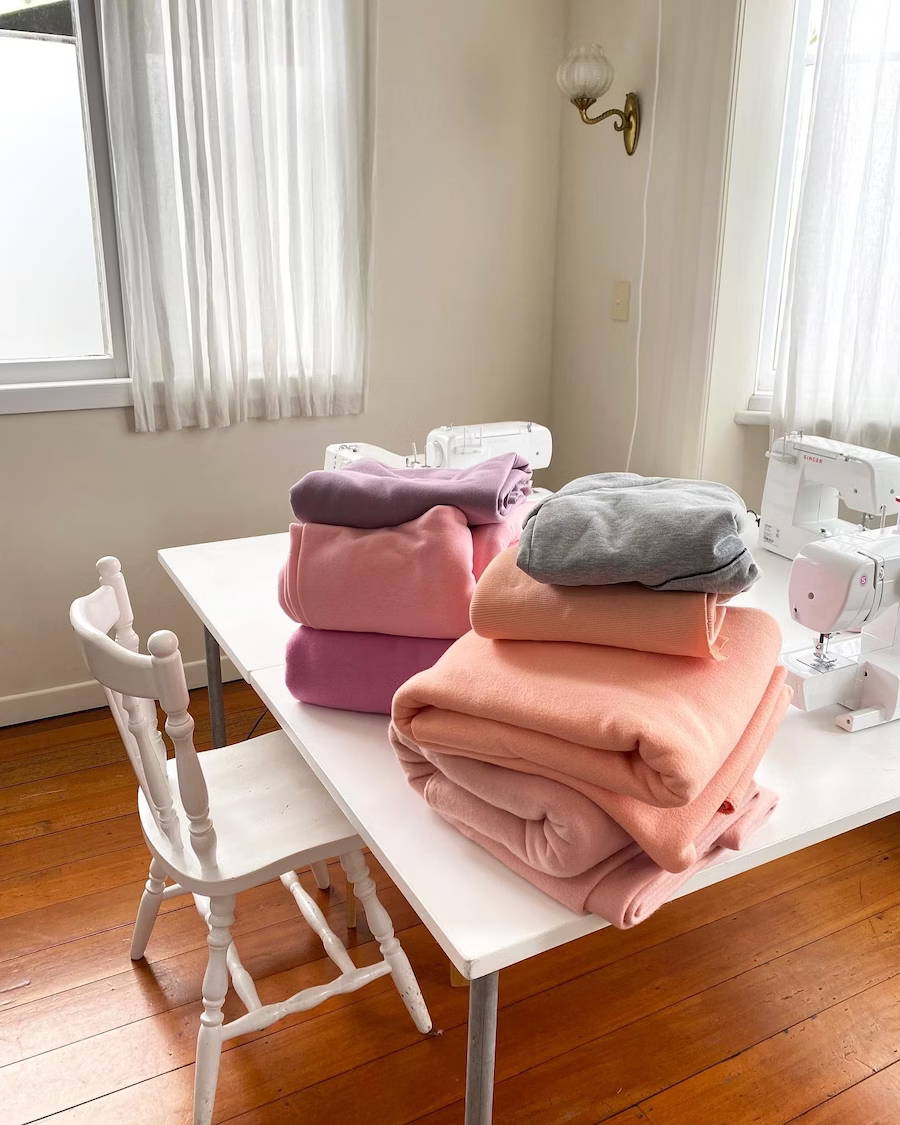 What are you sewing at the moment?
Some warm winter goodies! My wardrobe consists largely of summer dresses so it's time to get out the merino & sweatshirting to make some things a little more suitable for the Winter weather.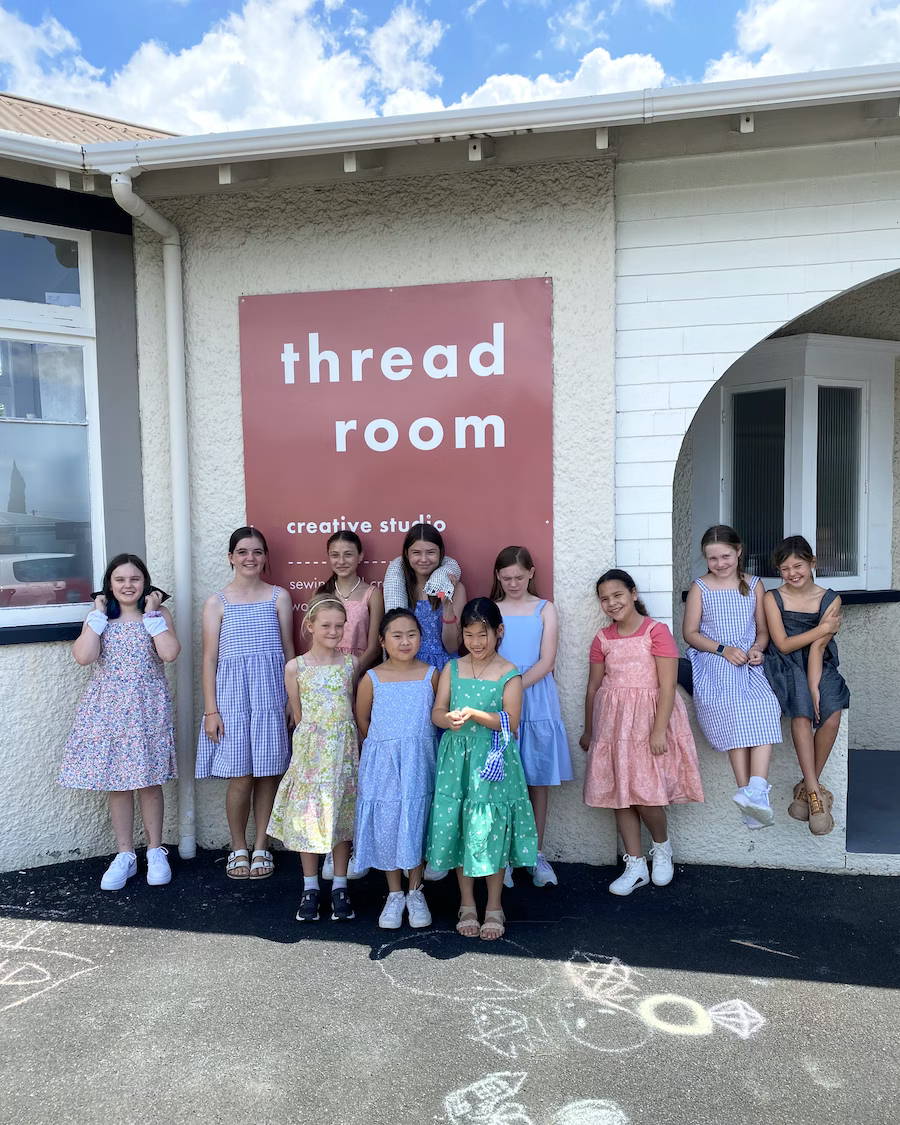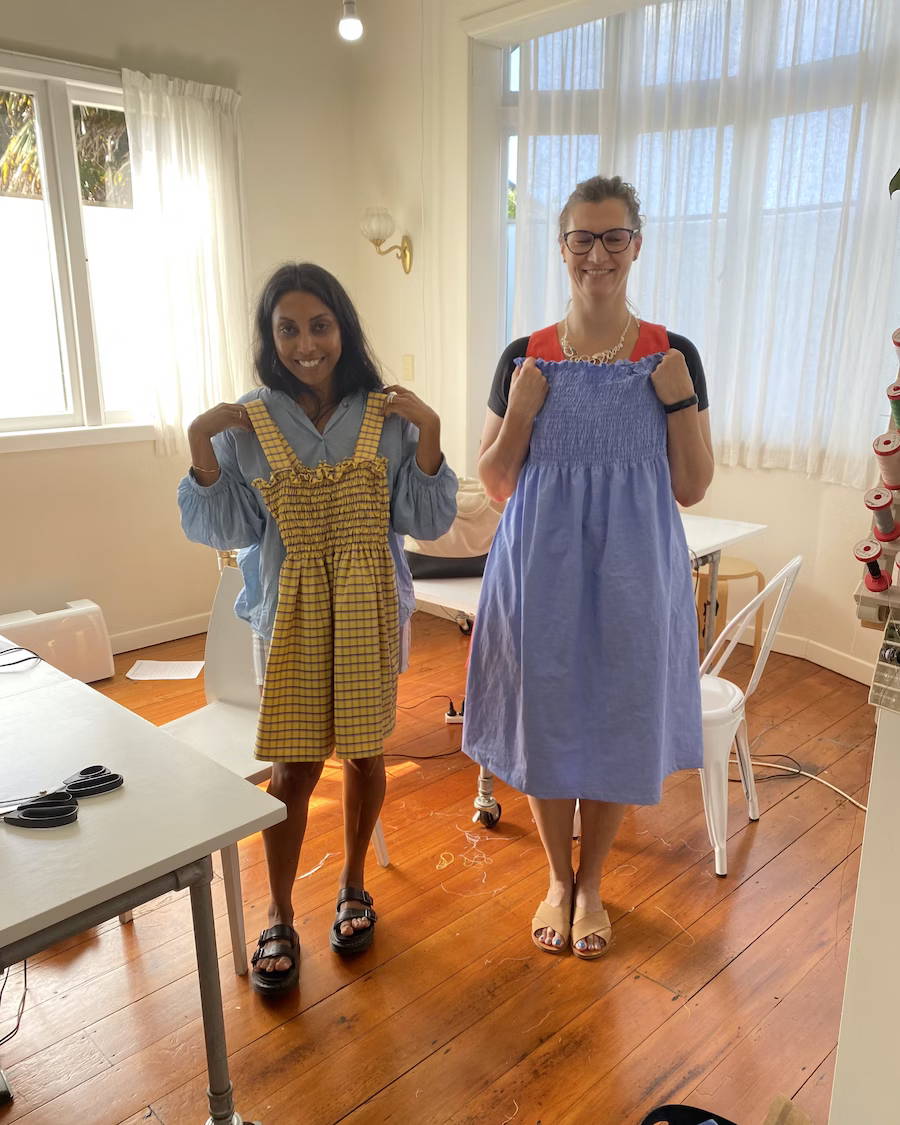 Share with us what you learnt from your biggest sewing success
Sewing is for everyone! It has been such a privilege over the years to teach hundreds of people how to sew, that has to be my biggest sewing success. I love helping people discover sewing. Whether it is the kids' classes with the next generation of makers coming through; or adults coming back to sewing after years away; or anyone who has never had the chance to learn. Sewing is such a joyful practice and I think everyone should have the opportunity to make it a part of their lives.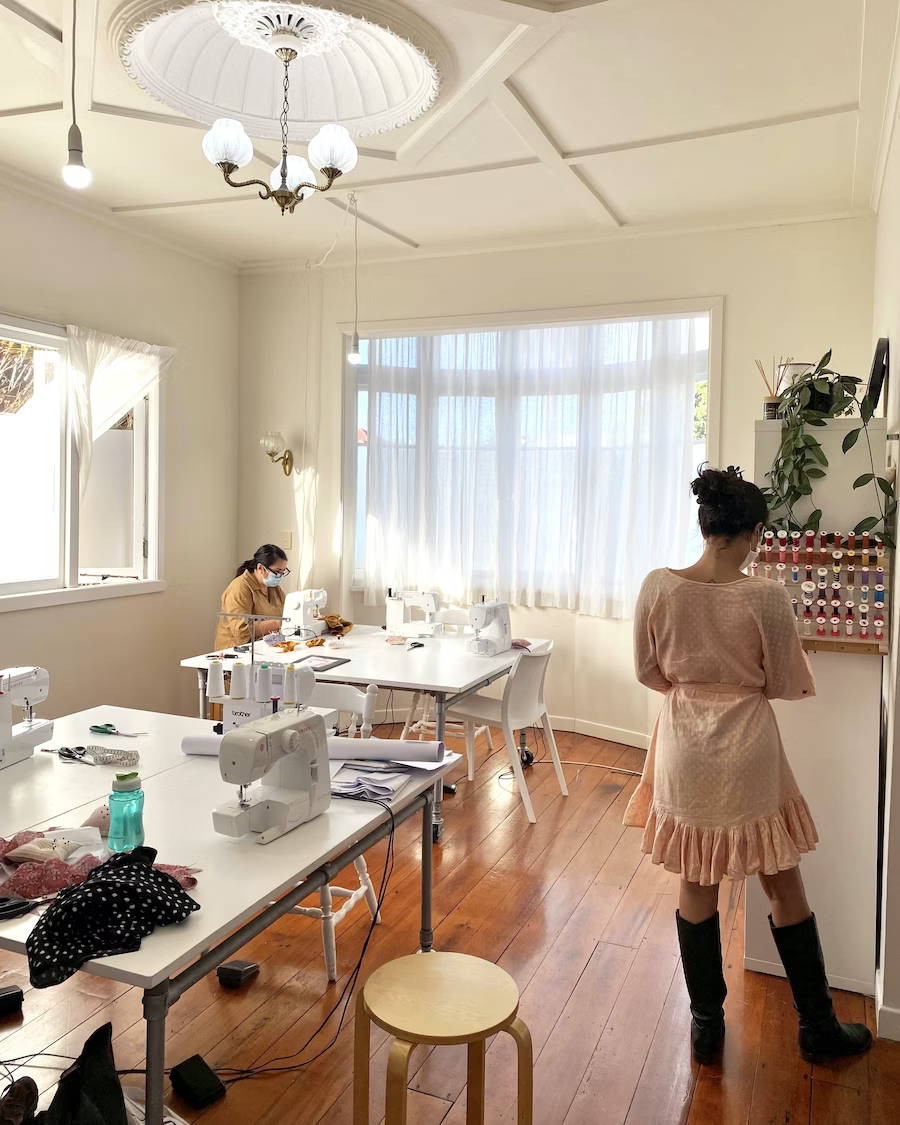 Share with us what you learnt from your biggest sewing flop
Don't rush overlocking. I was once overlocking the very last seam of a dress. In a rush to get it done I somehow got it caught up in the overlocker and cut a great big chunk out of the centre front. I patched it up but it was pretty hard to hide!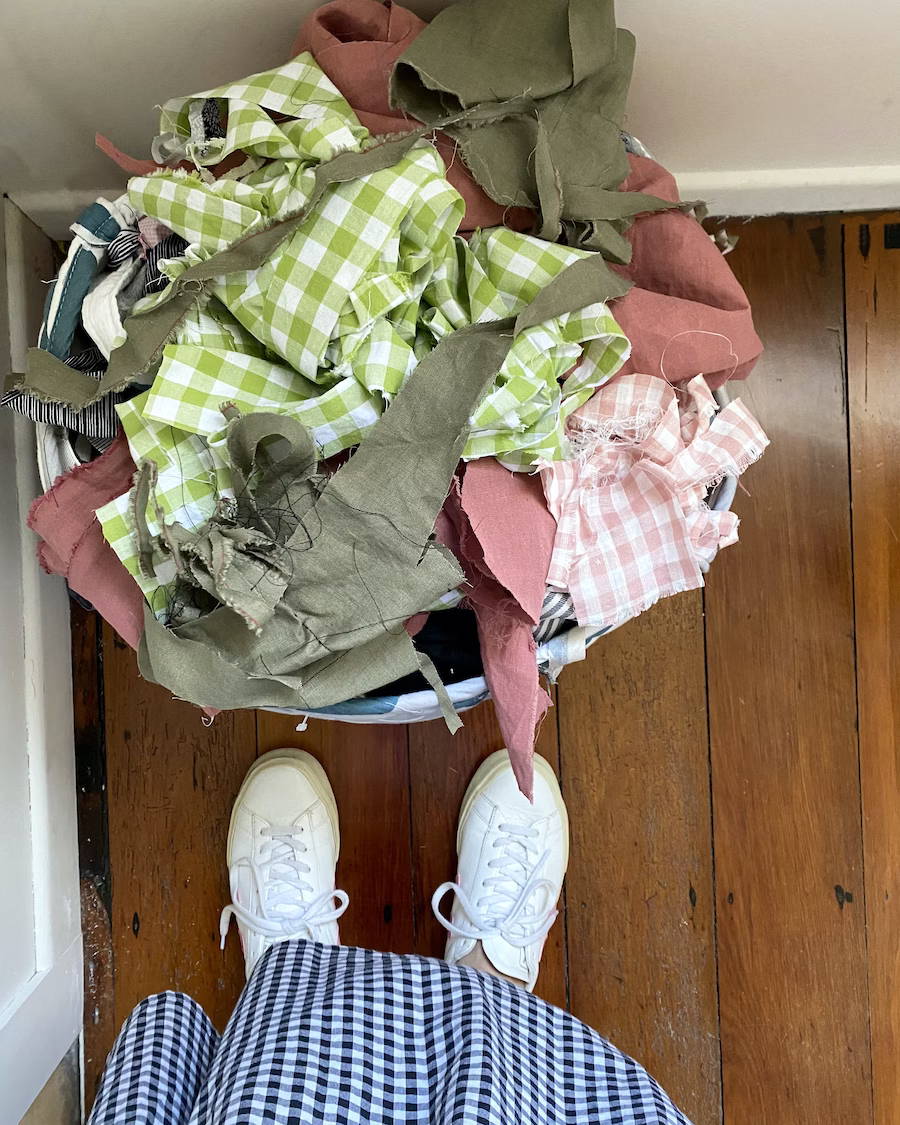 Do you have any secret sewing tips you'd like to share?
I highly recommend getting into the habit of pre-washing your fabric as soon as you buy it. There is nothing worse than feeling the sewing inspiration, then going to get started and realising you haven't pre-washed your fabric.
I was recently in Paris, and I did a fair bit of fabric shopping. There was a washing machine in the Airbnb so even though I was on holiday I continued on my pre-washing habit and hung up the fabric all over the tiny apartment to dry. When I returned home to Auckland my fabric was all ready and I was able to start sewing as soon as I got home!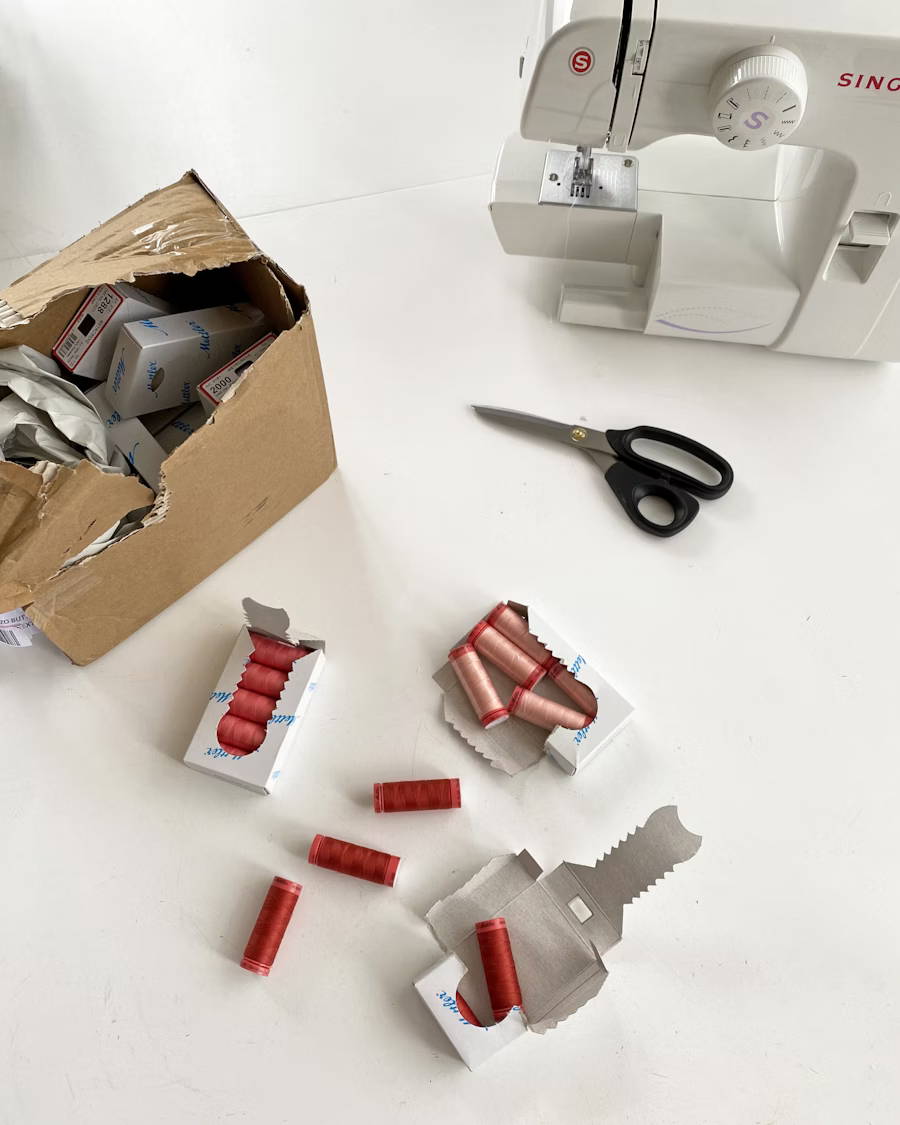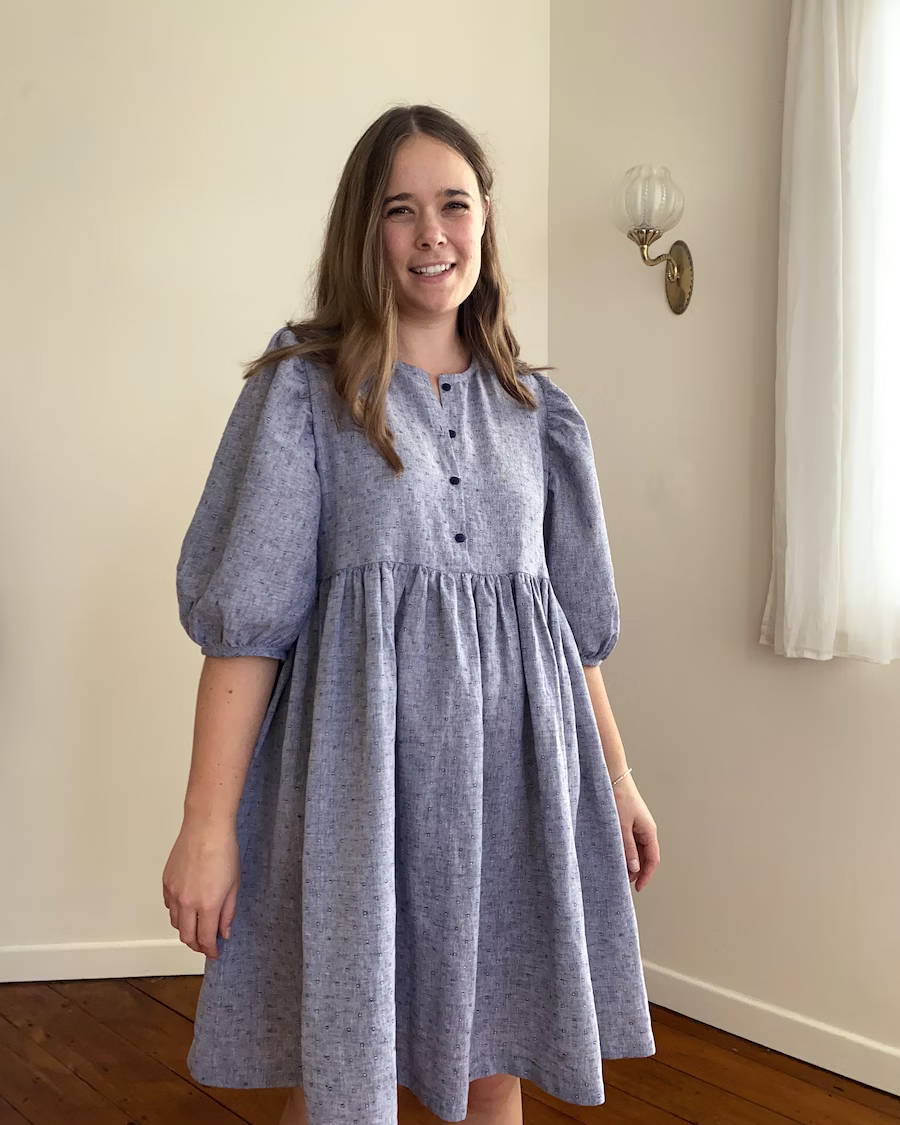 What are your top 5 sewing must-have tools... "Sharp scissors, good chalk, unpicker, bodkin, set square"
Are there any favourite books, podcasts or blogs that you love?
I love reading! Mostly a big mix of fiction. In the studio though, Winifred Aldridge and Helen Joseph-Armstrong are our favourites. I used to think these text books were so boring when I was at uni. Now I see them as being full of ideas and opportunities!
I love any podcasts on creative small businesses. 'Super Creative' is my current favourite.

And anything from The Fabric Store blog of course! I am also loving reading blogs on Substack at the moment. It's such a fun space and we've just started sharing on there too.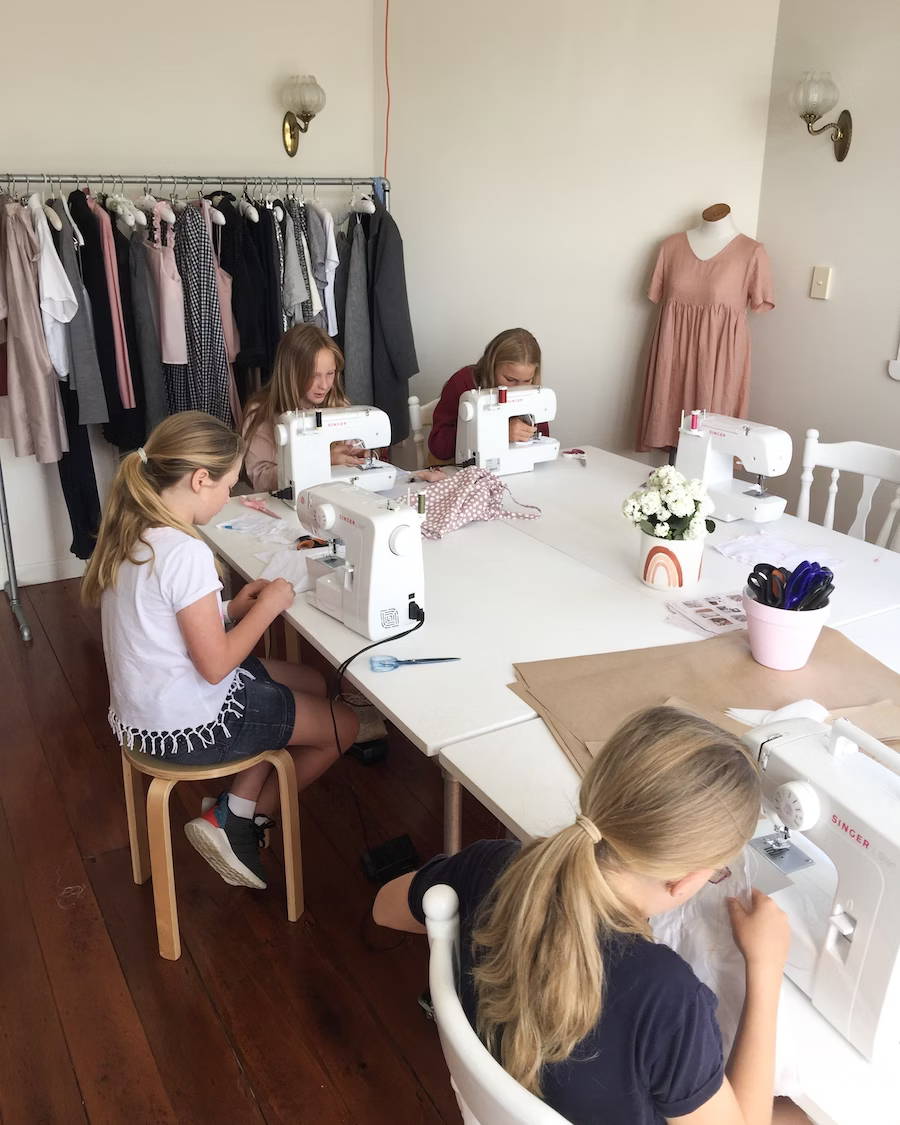 What and/or who motivates and inspires you?
This probably sounds a bit cheesy but my students! I feel so lucky that I get to look in on all of these different sewing projects each week. I am often getting new ideas and inspiration from lovely things I've seen or heard about in class.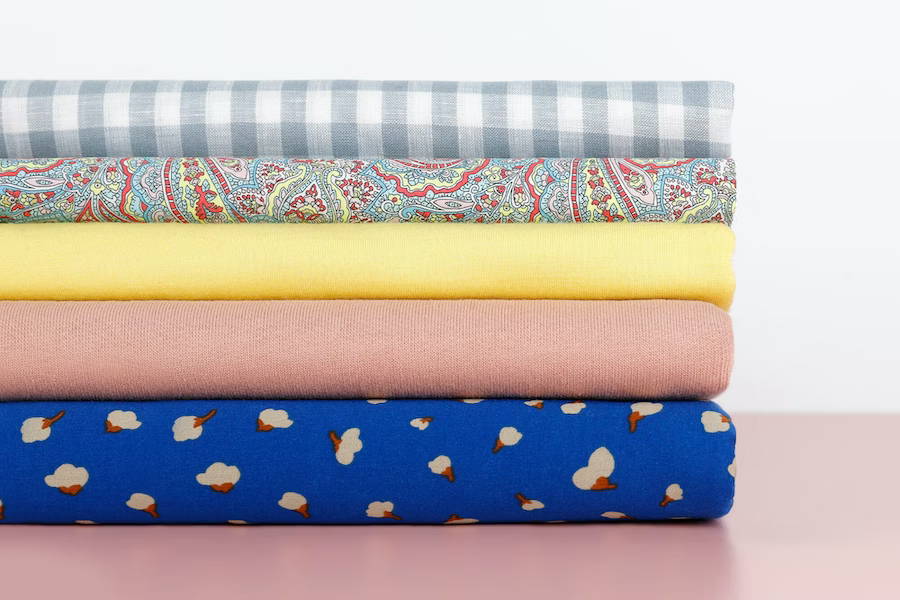 What are your favourite fabrics from our Online Store and why?
ZQ Premium Merino - Merino turtlenecks are a winter staple for me!

Organic Cotton Sweatshirting - So soft and cosy. I made a full tracksuit set in the pink and I wear it so often I really need to do another.
Linen Gingham - I love linen and I love gingham so it's a no brainer. When The Fabric Store first released the linen gingham, it was so popular with our students, about every second student in class was using that fabric!
Liberty Tana Lawn - Such a beautiful weight of fabric, I always keep an eye out for a print to catch my eye.
Cotton Boll Modal / Cotton in Sapphire - This one is such a fun colour; a fun print and it drapes beautifully. I made a gathered tiered dress with it and I love it!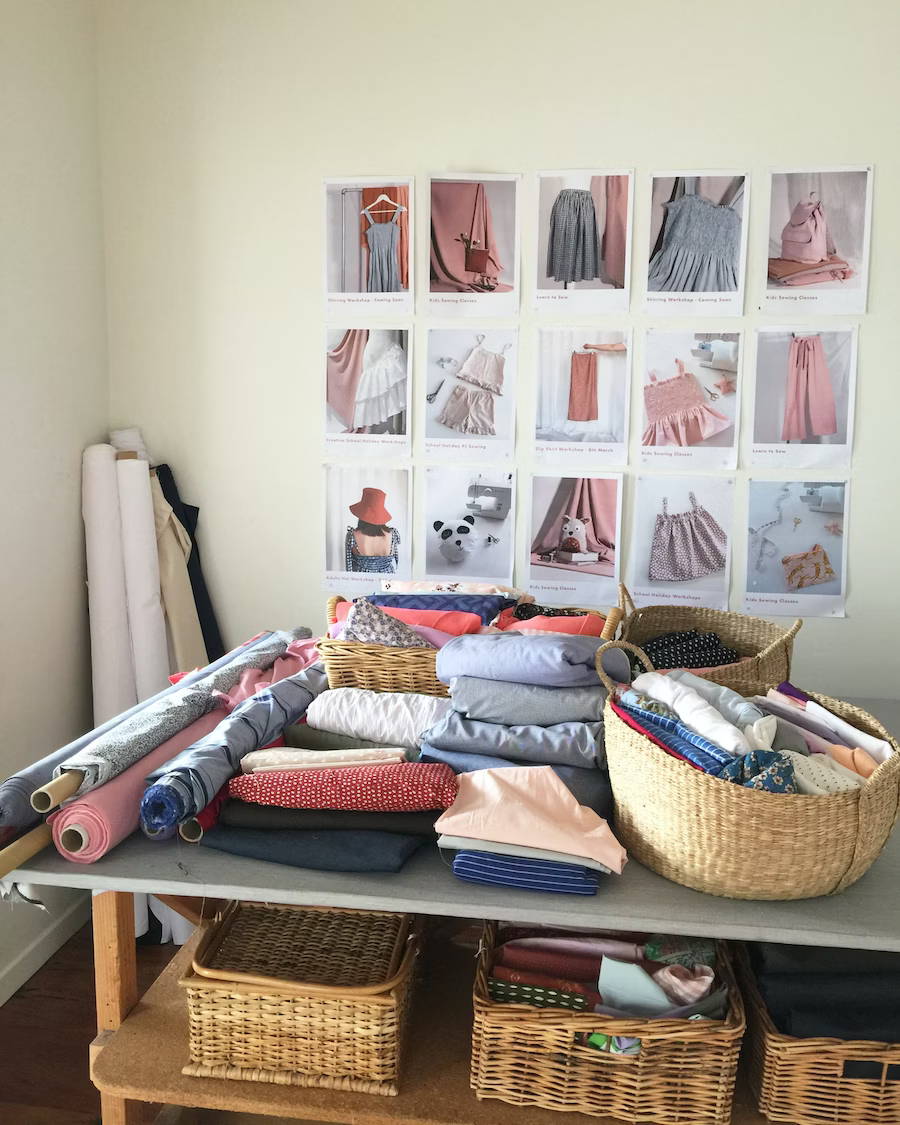 Any future projects that you are excited about?
Yes we always have so much on the go at Thread Room! We are moving studio in a few months + making some more Auckland classes available, including some great new pattern-making classes coming up. I am really enjoying sharing some more personal sewing and small business thoughts via Thread Thoughts on Substack at the moment.
And of course, an endless number of sewing projects to feel excited about!
A very warm thank you to Katie for chatting with us this week, we're excited to spread the word about Thread Room's new pattern making workshops!
We hope you've enjoyed this Friends of TFS interview, head over and follow Katie via Instagram and Substack, and don't forget to check out her website for workshops and classes.